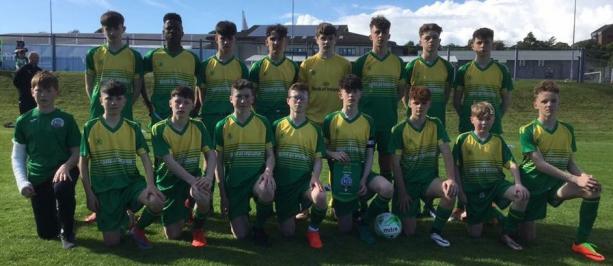 Allen McKinstry Cup
Schools Association Football International Board (SAFIB) Home Nations
First Year Boys Cup Champions (U14)
Monday, May 22, 2017
St. Brendan's College claim fourth in Allen McKinstry Cup
ST. BRENDAN'S COLLEGE, KILLARNEY netted a fourth place podium finish in this season's Allen McKinstry Cup in Swansea University at the weekend.
Trevor Nagle's side had qualified to represent FAI Schools at this annual Home Nations Tournament last season when they captured the Bank of Ireland FAI Schools First Year Boys National Cup which saw them undergo a major fund-raising initiative over the last few months to support their trip to the Welsh Dragons.
A late change to the squad saw the inclusion of Niall McGillicuddy who relished the opportunity of some top class football against National Cup Champions from Wales, Scotland, Northern Ireland and England.
The opening game for the Republic of Ireland representatives saw them play out a scoreless draw with Shropshire's Thomas Telford School who went on to win the penalty shoot-out 8-7 in a tense finale.
The other group games saw full points go to Northern Ireland outfit Our Lady & St. Patrick's College, Knock (OLSPCK) with a slender 1-0 victory over Flintshire's Castell Alun High School. Also at the summit were St. Ninian's High School, Giffnock who scored a brace against Olchfa Comprehensive finishing 2-0 at the end of day one.
The penultimate games on day 2 of action saw Thomas Telford smash seven past a depleted Castell Alun's crew. Frankie Wilson's Northern Ireland select continued winning ways with an impressive 3-1 outing against Olchfa Comprehensive. Also in contention for top spot was St. Ninian's who came through a highly entertaining encounter with Killarney's St. Brendan's College to win 2-1. The Kerry lads were plagued with injuries, but created some great opportunities in front of goal and on another day may have been converted. This was the first defeat for St. Brendan's since September 2015, going twenty games unbeaten.
The final day saw the Scots secure three wins from three with a solid 3-0 demo of OLSPCK. St. Ninian's join the footsteps of Dumfries Academy (2008), St. Ambrose HS (2010) and Bannerman HS (2013) in capturing the prestigious title for the tartan army.  A wonderful display from Mark McKean's charges.
Thomas Telford overcame St. Brendan's College, Killarney 5-2 to snatch third while local side Olchfa defeated Castell Alun 3-0 in the battle for fifth. #AllenMcKinstryCup
Killarney had three of their starting eleven ruled out of contention for the third and fourth place play-off as the trio were all carrying injuries. However this didn't hamper their endeavours as Nagle's side started brightly.
Jack McCarthy should have opened his account for the Killarney School but he slotted wide early on.
Telford went one up against the run of play with a smart counter attack and this was doubled shortly after to make it 2-0 after a St. Brendan's attack was broken down and the English lads took their chance bravely.
Another body blow was the withdrawal of an injured Daniel Okwute. Things were going from bad to worse for the Saints.
Thomas Telford's third came courtesy of the penalty spot following the dismissal of St. Brendan's College netminder Conor O'Leary as he was deemed to take down a Telford striker as he was one on one enroute to goal.
The versatile Ryan O'Grady went between the posts and nearly got a hand to the ball but alas it was 3-0. Philip O'Leary was called into the number one spot soon after and pulled off some excellent interceptions.
Substitutes Matt Fleming and Lawrence O'Donoghue impressed when introduced.
Niall McGillicuddy nipped in with a blistering strike to make it 3-1, his second goal of the tournament.
The Killarney side had no option but to go for it but conceded again on the counter to make it 4-1.
Another penalty call, this time in favour of the St. Brendan's College as Dylan O'Callaghan slotted home to make it 4-2.
Telford scored again soon after to make it 5-2 and surely take the bragging rights in this highly contested outing.
Towards the latter stages of the game, the hard-working Owen Bensen fed Cian O'Leary with a beautifully weighted ball but O'Leary just couldn't connect.
Thomas Telford saw out the remainder of the game to claim bronze in a seven goal thriller.
The students from St. Brendan's College gained some valuable experience over the three days and savoured the opportunity to test themselves against their skilful counterparts. No doubt THE SEM will be back in contention next season for more National Cup honours.
CONGRATULATIONS to St. Ninian's High School on a powerful display over the three days to deservedly take the title for 2017.
ST. BRENDAN'S COLLEGE, KILLARNEY | Conor O'Leary, Tom Doyle, Owen Benson, Neil O'Shea, Ryan O'Grady, Conor Henderson, Cian O'Leary, Dylan Callaghan, Daniel Okwute, William Shine, Robert O'Shea Christian Casey, Lawrence O'Donoghue, Philip O'Leary, Matthew Fleming, Joe Rudden, Jack McCarthy, Jack McClain, Niall McGillicuddy
TEACHER | Trevor Nagle | COACH | Joe Hurley | KIT MAN | Matas Starosas | HEAD OF DELEGATION | Nixon Morton |
ST. NINIAN'S HIGH SCHOOL, GIFFNOCK | Joe Adair, Josh Adair, Owen Adam, Matthew Connolly, Andrew Duncan, Dominic Goodwin, Sam Lawson, Odhran Markey, Michael McCabe, Ronan Miller, Andrew Park, Michael Ruth, Shea Scally, Christopher Smith, Daniel Smith, Matthew Tunn
TEACHERS | Mark McKean, Mark Gallagher, Joe Harkins
LIST OF PARTICIPATING SCHOOLS
Our Lady and St Patrick's College, Knock (OLSPCK)                           Northern Ireland  
Thomas Telford School, Shropshire                                                          England
Castell Alun High School, Flintshire                                                           Wales A
St Brendan's College, Killarney                                                                    Republic of Ireland
St Ninian's High School, Glasgow                                                               Scotland
Olchfa Comprehensive School, Swansea                                                Wales B
Results | Swansea University
Friday, May 19, 2017, KO 5.30pm
Castell Alun HS 0-1 OLSPCK
St. Brendan's College 0-0 Thomas Telford School (Thomas Telford won 8-7 on pens)
St. Ninian's HS, Glasgow 2-0 Olchfa Comprehensive
Saturday, May 20, KO 10.30am
Thomas Telford School 7-0 Castell Alun HS
Olchfa Comprehensive 1-3 OLSPCK
St. Ninian's HS, Glasgow 2-1 St. Brendan's College, Killarney
Sunday, May 21, KO 10.00am
Positional Play-Offs
5vs 6
Olchfa Comprehensive 3-0 Castell Alun
3 vs 4
Thomas Telford School 5-2 St. Brendan's College, Killarney
Final
1 vs 2 (KO 10.30am)
St. Ninian's High School 3-0 OLSPCK 
Allen McKinstry Cup Roll of Honour
| | |
| --- | --- |
| YEAR | WINNER |
| 2017 | St. Ninian's High School, Glasgow |
| 2016 |  St. Kieran's College, Kilkenny |
| 2015 | Calasanctius College, Oranmore, Galway |
| 2014 | Ysgol Cyfun Gymraeg, Plasmawr, Cymru |
| 2013 | Bannerman HS, Scotland |
| 2012 | St. Eunan's College, Letterkenny, Donegal |
| 2011 | St. Columb's College, Northern Ireland |
| 2010 | St. Ambrose HS, Scotland |
| 2009 | Forest School, Wokingham, England |
| 2008 | Dumfries Academy, Scotland |
Republic of Ireland Representatives
YEAR

SCHOOL

2016

St. Kieran's College, Kilkenny

Douglas Community School, Cork

Dublin Oak Academy, Bray

2015

Calasanctius College, Oranmore, Galway

2014

St. Brendan's College, Killarney, Kerry

2013

Gorey Community School, Wexford

2012

St. Eunan's College, Letterkenny, Donegal

St. Joseph's College, Galway

2011

St. Joseph's SS, Rochfortbridge, Westmeath

2010

Limerick CBS, Sexton Street

2009

De La Salle College, Waterford

2008

Coláiste Spioraid Naoimh, Bishopstown, Cork
END