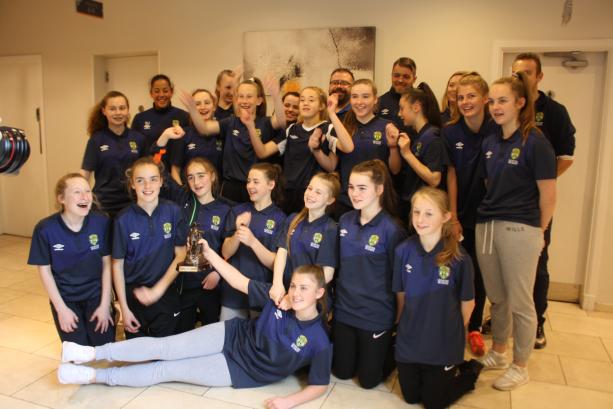 FAI Schools Girls' Interprovincial Tournament (U15)
Dr. Fionnuala Quigley Memorial Trophy
November 14 2016
It was Déjá Vu for Leinster as they secured the U15 Girls' Interprovincial Tournament title for 2016 for the fifth consecutive time in the tournament's history in the AUL Complex on Sunday (November 13). A fantastic achievement for the players and management team following a competitive three days of football.
Similar to last season, Howard's crew suffered a narrow 2-1 defeat to Ulster in the final game but did enough in the previous two games to merit the honours. Some would say a dubious penalty for the title holders was awarded in the last few minutes of the game as Larkin Community College scholar Jessica Ziu duly converted. If the youngster missed or if the sub goalkeeper, outfield player, Megan Havlin saved, the title would have went to Connacht, based on their goals scored tally as three of the four teams were level on 4 points with equal goal difference for Connacht and Leinster. But that crucial goal for Leinster right at the end of the game was enough to ensure their impressive streak remained intact
Friday afternoon was great billing as Leinster and Connacht played out a five goal thriller with two penalties awarded to Paul Howard's squad inside the first twenty minutes. Jessica Ziu netted her first with 5 minutes on the clock and her next from the spot was another top notch finish on 19 minutes. They lead 2-0 at the interval with calls for a third penalty denied.
St. Paul's SS starlet Anna Fahy was in fine form for the Connacht select and gave her side a lifeline when she netted soon after the break, 2-1. The fight back was short lived as Leinster Captain Mia Dodd (Presentation College, Warrenmount) made it 3-1 midway through the half. Taylor White converted from close range to take the scoreline to 4-1 with six minutes on the clock to ensure some breathing space in this lively contest.
Pearl Slattery, Shelbourne Captain was on hand to present the Player of the Match (POTM) to Emily Whelan, Ardgillan Community College following her impressive performance for the reigning Champions.
The second outing of the afternoon saw Munster face Ulster in an equally impressive encounter. Erin McLaughlin (Carndonagh CS) scored a brace, one in each half to give Bridgeen Harley's team a valuable two points. McLaughlin's first was a screamer just outside the box with only five minutes registered. Erin doubled their lead just two minutes into the second period to increase the Ulster stronghold.
The versatile Sophie Liston was so unfortunate in this game as the young Scoil Mhuire agus Ide pupil hit the woodwork three times in the second half. Munster were also denied by Deele College student Neve Scanlon who was phenomenal for Ulster as she held a commanding position between the posts for the Ulster side. Her sterling performance for the Northerners merited her the accolade of POTM which Pearl Slattery presented.
Day two of the competition saw Leinster continue winning ways as they finished 2-1 winners over a determined Munster outfit. Zara Foley (Ballincollig CS) scored on 12 minutes to give Munster a dream start to proceedings. Her well executed set piece was wonderfully placed into the top corner.  Taylor White (St. Dominic's College, Cabra) equalised five minutes later while Mia Dodd gave Leinster an important advantage seven minutes from the break to make it 2-1. The Munster girls played some brilliant football in the second period but couldn't find the all important equaliser.
It was only fitting that Eabha O'Mahony (Mount Mercy College, Cork) picked up the POTM following her stunning display for Richard Grimes crew. Katie McCabe (past pupil St. Paul's SS, Greenhills), former Leinster Schools player in 2009 was on hand alongside Leanne Kiernan (Bailieborough CS), former Ulster Schools player from 2014 to present the prize to the young Cork native.
Connacht secured their first points of the series when they slotted six past an Ulster select that were stunned by their opposition as the game ended with an eight goal fest.
Ava Keane (Ballinrobe Community School) netted Connacht's first of the afternoon inside the first ten minutes. Moville's Kerry Brown equalised soon after to take it to 1-1. Muireann Devanney doubled their advantage on 14 minutes and Anna Fahy converted from the spot with twenty played. The onslaught continued as Alva Munneally was denied by the woodwork as half time approached with Connacht 3-1 up at the break.
Carndonagh pupil Erin McLaughlin got her side back in contention midway through the second half when she netted to make it 3-2 but the resourceful Anna Fahy from St. Paul's SS, Oughterard scored a hat-trick of goals late on to bring her personal tally to four for the day! 6-2 to Dom Coll's charges
Leanne Kiernan and Tara Mannix (Gaelcholáiste Luimnigh), former Munster Schools player in 2014 were delighted to present the match football to Anna following the game. Their POTM went to Ulster's Kerry Brown following an outstanding exhibition of football for the Moville youngster.
The final series of games on Sunday morning saw Leinster face off against Ulster while the earlier kick off had Connacht play Munster.
Leinster were top of the leader board on four points with Connacht and Ulster chasing suit on two points each.
The penultimate game in the tournament ended 1-0 to Connacht as a solidarity goal in the first half from Anna Fahy was enough to see off the competition. This win left Connacht on four points, level with Leinster but they had a game in hand. Ulster were on two points so could there be more upset on the cards if Ulster were to win?
It was Anna Fahy that collected the POTM award from Lauryn O'Callaghan (St. MacDara's CS), former Leinster player two seasons ago for her solid display in the park for the Connacht contingency.
The finale saw Ulster win out 2-1 victors over Leinster in this exciting contest. Ulster had shouts for a penalty early on as Aoife Kelly (Loreto Convent, Letterkenny) picked up a nasty facial injury when she was tackled in the box. The referee waved play on much to the annoyance of Bridgeen Harley and her management team.
Howard's side nearly took the lead when Zoe Leonard's inch perfect shot on target was palmed away brilliantly by Neve Scanlon in goal. The keeper was in the wars during the course of the game and had to withdraw due to a shoulder injury. The other Ulster goalkeeper Niamh Doherty had featured the previous day and was also carrying a knock so midfielder Megan Havlin had to go in between the sticks for her team.  
Loreto, Milford's Danielle Hynd broke the deadlock just before the interval with a splendid individual effort. The talented Kerry Brown made it 2-0 with twenty minutes left. Nervous times for the Leinster ladies as it looked likely that Connacht would claim top prize if the score stayed the same.
All three teams, Ulster, Leinster and Connacht were level on four points apiece with Connacht and Leinster sharing the same goal difference of +2. Connacht had scored more goals, thus ensuring them poll position in the closing stages of the tournament.
However Leinster's determination to remain on top was evident and the girls never gave up in their pursuit to score. They enjoyed spells of possession football in the Ulster danger zone and were rewarded for their hard work when the referee awarded them a penalty for a handball in the box.
Veteran Jessica Ziu, who was attending her third Interprovincial Tournament converted from the spot to bring the game to 2-1 thus ensuring the title remained with Leinster and they claimed an historic five consecutive title wins based on their positive goal difference tally with Connacht.
This situation was déjá vu for Connacht as they were denied by a converted penalty late on in Athlone Town four years ago for Leinster to go on and snatch the title from their grasp. A title that Connacht have yet to claim!
Ulster's Kerry Brown was selected as POTM by Lauryn O'Callaghan following her excellent contribution to the game and finishing with a super goal to give Harley's side another win in the competition and bragging rights over the tournament winners, Leinster.
In the end, Howard was highly complimentary of his player's style of play throughout the three day series and the professionalism they displayed during the course of the games. They were deserved winners following six extremely competitive outings with their counterparts.
International Manager, Lorraine Counihan will have a tough task on her hands to select a group for trial as the standard of play was so exceptional from all four provinces. Although Munster didn't collect any points during the weekend, the players did themselves proud and will no doubt have a good representation in Abbotstown when the initial trial commences on November 26.
Counihan and her management staff will select a panel of 34 players for this first phase of scouting before the squad is whittled down after Christmas to 20. The Republic of Ireland Schools select with play Northern Ireland and England in two competitive friendly games in early 2017 and then a final squad of 18 players will attend the Bob Docherty Cup which FAI Schools will host during the Easter Break on April 9 to 12 in the AUL Complex.
PROVINCIAL PANELS:
LEINSTER: Courtney Maguire (St. Laurence's College, Loughlinstown), Aoife Glennon, (Newbridge College), Mia Dodds (Presentation Secondary School, Warrenmount), Ellie Ferguson (Coláiste na hInse, Laytown), Nadine Clare (Loreto Secondary School, Foxrock), Zoe Leonard (Hartstown Community School), Orla Prendergast (The High School, Rathgar), Taylor White (St. Dominic's College, Cabra), Nicole Keogh (St. Kilian's CS, Bray),  Jessica Ziu (Larkin CC, Cathal Brugha Street), Chloe Johnson (Loreto Secondary School, Balbriggan), Alanna Cassells (St. Joseph's College, Lucan), Emma Crowley (Loreto Secondary School, Beaufort, Dublin), Kayla Brady (Wilson's Hospital School, Multyfarnham), Rebecca Cooke (Portmarnock CS), Abby Shiels (Confey College, Leixlip), Emily Whelan (Ardgillan Community College, Balbriggan)
MANAGEMENT: Paul Howard (Loreto College, Crumlin), Yvonne Nolan (St. Declan's College, Cabra), Conor Jennings (NA) Rianna Jarrett, Jenny Ferrari (both IT Carlow), Paul Skinner (GK Coach).
MUNSTER: Abby McCarthy
(Castletroy College, Limerick)
,
Louise Burke
(Coláiste Muire, Cork),
Robin Carey
(Colaiste Dun Iascaigh, Cahir),
Aoibheann Clancy
(Presentation Secondary School Thurles),
Sophie Liston & Chloe Collum
(both Scoil Mhuire agus Ide, Newcastle West),
Lauren Egbulonio
(Carrignafoy Community College, Cobh),
Zara Foley
(Ballincollig Community School),
Aoife Horgan
(St. Joseph's Secondary School, Ballybunion),
Emer McCarthy
(Cashel Community School),
Neema Nyangski
(Gaelcholaiste Phort Lairge),
Emma O'Donohue
(Colaiste Muire, Ennis),
Eabha O'Mahony
(Mount Mercy College, Cork),
Anna & Maura Shine
(both Tarbert Comprehensive School, Kerry),
Maeve Williams
(Abbey Community College, Waterford),
Rosie Young
(St. Caimin's Community School, Shannon),
MANAGEMENT:
Richard Grimes
(St. Caimin's Community School, Shannon, Clare),
Carys Johnson, Peter Sullivan, Elaine Whyte
(all Coláiste Mhuire, Buttevant),
Elaine O'Mahony
(North Presentation SS, Cork)
Michael Looby
(FAI Development Officer),
Mark Barry
(IT Carlow)
CONNACHT: Ria McPhilbin
(Coláiste Iognaid),
Shauna Brennan, Chellene Trill & Kate Slevin
(all Claregalway College),
Kelsey Munroe

 

& Ava Keane
(both Ballinrobe Community School),
Aife Haran
(Sligo Grammar School),
Alva Munnelly
(St. Patrick's College, Lacken Cross)
,
Jane Trehy
(Presentation College, Athenry),
Emilia Koziel
(Dominican College, Taylor Hill),
Kate O'Dowd
(St. Nathy's College, Ballaghdereen),
Muireann Devanney
(St. Clare's Comprehensive School, Manorhamilton),
Anna Fahy
(St. Paul's Secondary School, Oughterard),
Kellie Brennan
(Holy Rosary, Mountbellow),
Ellen Conlon
(Jesus & Mary Secondary School, Salerno),
Hana Ueno
(St. Louis Community School, Kiltimagh),
Abbiegayle Ronayne
(Mount St. Michael SS, Claremorris)
MANAGEMENT: Dom Coll (Presentation College, Athenry), Seamas MacEachmharcaigh, Sarah Farragher (both Sacred Heart School, Westport), Seán Boland, Fabienne Cooney (both Meánscoil Muire gan Smál, Convent of Mercy, Roscommon)
ULSTER: Neve Scanlon
(Deele College, Raphoe)
,
Aisling Irwin
(Loreto College, Milford),
Aisling Mc Laughlin
(Moville Community College),
Katelyn McDaid
(Carndonagh Community School),
Eimear Sweeney
(Mulroy College,

 

Milford),
Danielle Hynd
(Loreto College, Milford),
Brianna Doherty
(Scoil Mhuire, Buncrana),
Niamh McDonald, Megan Havlin & Kerry Ann Brown
(all Moville Community College),
Erin McLaughlin
(Carndonagh Community School),
Grace McColgan
(Scoil Mhuire, Buncrana),
H elena McGee
(Falcarragh PCC),
Beth Doherty
(Scoil Mhuire, Buncrana),
Ellie White
(St. Columba's College, Stranorlar),
Niamh Doherty
(Scoil Mhuire, Buncrana),
Aoife Kelly
(Loreto Convent, Letterkenny).
MANAGEMENT: Bridgeen Harley (St. Columba's College, Stranorlar), Emma Duffy (Loreto Convent, Letterkenny), Karen Henry (Mulroy College, Milford)
Friday, November 11
Leinster 4-1 Connacht POTM: Emily Whelan (Ardgillan Community College, Balbriggan)
Ulster 2-0 Munster POTM: Neve Scanlon (Deele College, Raphoe)
Saturday, November 12
Munster 1-2 Leinster POTM: Eabha O'Mahony (Mount Mercy College, Cork)
Connacht 6-2 Ulster POTM: Kerry Brown (Moville Community College)
Sunday, November 13
Connacht 1-0 Munster POTM: Anna Fahy (St. Paul's SS, Oughterard)
Ulster 2-1 Leinster POTM: Kerry Brown (Moville Community College)
TABLE
| | | | | | | | | |
| --- | --- | --- | --- | --- | --- | --- | --- | --- |
|   | P | W | D | L | F | A | GD | Pts |
| Leinster | 3 | 2 | 0 | 1 | 7 | 4 | 3 | 4 |
| Connacht | 3 | 2 | 0 | 1 | 8 | 6 | 2 | 4 |
| Ulster | 3 | 2 | 0 | 1 | 6 | 7 | -1 | 4 |
| Munster | 3 | 0 | 0 | 3 | 1 | 5 | -4 | 0 |
Girls' Interprovincial Tournament Roll of Honour
| | | |
| --- | --- | --- |
| YEAR | WINNER | VENUE |
| 2000 | Munster | Galway |
| 2001 | Leinster | Ballybofey, Donegal |
| 2002 | Leinster | Ballybofey, Donegal |
| 2003 | Munster | Clare |
| 2004 | Leinster | Athlone |
| 2005 | Leinster | Athlone |
| 2006 | Munster | Athlone |
| 2007 | Munster | Athlone |
| 2008 | Munster | Athlone |
| 2009 | Leinster | Tullamore/Athlone |
| 2010 | Ulster | Tullamore/Athlone |
| 2011 | Munster | Tullamore/Athlone |
| 2012 | Leinster | Tullamore/Athlone |
| 2013 | Leinster | AUL Complex, Clonshaugh |
| 2014 | Leinster | AUL Complex, Clonshaugh |
| 2015 | Leinster | AUL Complex, Clonshaugh |
| 2016 | Leinster | AUL Complex, Clonshaugh |
IMAGES:
END