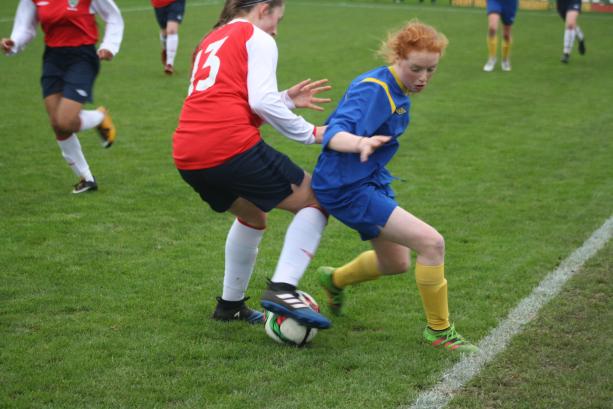 U15 Girls' Interprovincial Tournament
Dr. Fionnuala Quigley Memorial Trophy
Can Connacht prevail over Leinster in the final test
Saturday, November 18, 2017
Both Connacht and Leinster claimed full points this afternoon following two hard fought encounters in their penultimate series of games in this season's U15 Girls Interprovincial Tournament.
Leinster had to dig deep in the last quarter to notch up a brace to see off Harley's challenge.
The Ulster side were magnificent in the first period and were unfortunate not to see Glenties star Maria Bonner register the opener. The St. Columba's scholar saw her attempt smash off the upright and spring out of the goalmouth.
Another excellent opportunity early in the second half was carved out by Scoil Mhuire pupil Louise Gallinagh as her right footed execution just missed the mark.
However it was Ellison's squad who remained composed and eventually broke the deadlock on 51 minutes when Loreto Abbey youngster Maria Reynolds capitalised on a half cleared corner to give the Leinster side the lead.
The double was complete six minutes later when Captain Della Doherty (Coláiste Íosagáin, Portarlington) lashed a screamer from 30 yards out to net the crucial winner.
The Laois native was named Player of the Match following her late heroics complimented by her solid display throughout the park.
It ended 2-0 to Leinster, heartache for Ulster who deserved something more from a competitive performance.
This excellent result leaves Leinster right in contention for silverware as they go in search of an outrageous six in a row! The only thing stopping them is the Connacht contingency who have been red hot favourities after their display on day one.
Again, the title contenders Connacht oversaw a brave Munster setup to claim another vital win in this contest.
Grimes' side were well drilled from the outset and seemed to be comfortable on the ball in the early exchanges. They dominated most of the play in the first half but couldn't convert any real threats on goal.
This was unlike Connacht who utilised their build up play to perfection with St. Nathy's novice Kate O'Dowd forcing a great save from Coláiste na Trocaire keeper Houlihan. Oughterard's Anna Fahey was also close to breaking the deadlock but it remained scoreless at the interval.
The second half sparked to life four minutes in when the industrious Fahey hit a beautiful ball on target to bring her goal tally to five in the tournament.
Another one was quickly added as Mercy SS, Tuam grad Aoibheann Costello slotted home following a great through ball from that girl again, Anna Fahey, 2-0.
Rathkeale's Houlihan was by far the busier keeper in the second half but did well to palm several attempts to safety following a purple patch for Connacht.
Kelly Leahy (Coláiste an Chroí Naofa, Cork) almost made a positive impact with her introduction when she found space on 6 yard line but she snapped at the ball and drove it wide of the right peg with 47 minutes on the clock
Connacht's third of the afternoon came a minute from normal time when Claregalway's Kate Slevin saw her shot deflected and into the back of the Munster net.
Connacht had reason to celebrate again following the announcement of Muireann Devaney as Player of the Match. The St. Clare's student played a vital part in her side's successes and was merited for her exceptional performance against a brave and determined Munster team.
SUNDAY SHOWDOWN
Connacht are in a more advantageous position heading into the final series of matches on Sunday morning as they're level on points with reigning Champions Leinster but hold a considerable goal difference of +5. A win will seal victory for either side but Connacht would also be comfortable with a point from their final outing as they kick off at 11.30am.
Leinster mentor Rob Ellison (St. Raphaela's SS, Stillorgan) will have to scrutinize over team selection in the morning as Lucy Edwards (Maryfield College, Drumcondra) collided with the fencing nearing the end of their clash with Ulster this afternoon and injured her back while Rachel McGrath (Holy Family CS, Rathcoole)  picked up a hand injury that may require further examination.
In contract, Dom Coll's select are at full strength and may need to be for one final push towards the title. The province have come excruciatingly close to taking the title on numerous occasion only to be undone at the final hurdle.
Connacht were within minutes of sealing an empathic win back in 2012, only for rivals Leinster to get an injury time winner courtesy of a converted penalty from Eleanor Ryan Doyle (St. Joseph's College, Lucan) to take the title in dramatic fashion in Athlone Town FC.
Similar to 2015, Leinster got out of jail when they suffered a narrow 2-1 defeat to Ulster in the final game last season but did enough in the previous two games to merit the honours.
Some would say a dubious penalty for the title holders was awarded in the last few minutes of the game as Larkin Community College scholar Jessica Ziu duly converted. If the youngster missed or if the sub goalkeeper, outfield player, Megan Havlin saved, the title would have went to Connacht, based on their goals scored tally as three of the four teams were level on 4 points with equal goal difference for Connacht and Leinster. But that crucial goal for Leinster right at the end of the game was enough to ensure their impressive streak remained intact.
Presentation College, Athenry stalwart Dom Coll has been at the helm of this Interprovincial series since 1993 and it would be only be fitting if he could finally secure the title for his beloved province. All eyes will be on the main event at 11.30am in the AUL Complex but our curtain raiser will feature Munster and Ulster as they kick off proceedings at the same venue at 10 o'clock.
Munster and Ulster have enjoyed a favourable experience over the last two days with a number of players standing out for their respective panels.
Both parties would consider themselves unlucky not to have shared the spoils with Leinster in their respective ties as they aim to impress again tomorrow in their final excursion.
Ulster's Erin McLaughlin sat out proceedings today so may be a doubt for Bridgeen Harley's troops. Likewise, Loreto, Milford pupil Kelsey McAteer had issues with her knee that limited her playing time during the tournament.
All to play for tomorrow so we should witness two epic battles as the tournament comes to an exciting conclusion.    
Best of luck to all 68 players involved in the finale. A great showcase for girl's football and it has been an honour to be selected at this level, regardless of the results tomorrow.
INTERPROVINCIAL PANELS
LEINSTER | Emma Ring (Loreto Secondary School, Balbriggan), Shannon Guildea (Drogheda Grammar School), Jodie McQuillan (Beaufort College, Navan), Abby McHugh (Dunshaughlin Community School), Abby Clarke (Muckross Park College, Donnybrook), Jessie Stapleton (Palmerstown Community School), Ellen Molloy (Presentation Secondary School, Kilkenny), Della Doherty (Coláiste Íosagáin, Portarlington), Ella Maree (St. Brendan's Community School, Bray),  Zoe Leonard (Hartstown Community School), Rachel McGrath (Holy Family Community School, Rathcoole), Lucy Edwards (Maryfield College, Drumcondra), Maria Reynolds (Loreto Abbey, Dalkey), Sophie Murray (Loreto College, St. Stephen's Green), Jess Lawlor (Coláiste Lorcain, Castledermot), Rugile Askainyte (St. Mary's Holy Faith Convent, Glasnevin), Aoife O'Leary (St. Mark's Community School, Tallaght)
MANAGEMENT | Rob Ellison (St. Raphaela's SS, Stillorgan), Clare Kinsella & Mags Doyle (Coaches), Scott Gaynor (Presentation College, Wexford)
MUNSTER | Leah Hayes Coen
(Scoil Mhuire agus Ide, Newcastle West),
Emma Barrett
(Scoil Pól, Kilfinane),
Robin Carey
(Coláiste Dán Iascaigh, Cahir),
Ellen Casey
&
Emma O'Donohue
(Coláiste Muire, Ennis),
 Aoibheann Clancy
(Presentation Secondary School Thurles),
Aoife Horgan
(St. Joseph's Secondary School, Ballybunion),
Aisling Kelly
(Presentation Secondary School, Listowel),
Kelly Leahy
(Coláiste an Chroi Naofa, Cork),
Emer McCarthy
(Cashel Community School),
Nicole McNamara, Ciara Houlihan & Anna Mullane
(Coláiste na Trócaire, Rathkeale),
Mia O'Connell
(Coláiste Muire, Cobh)
Naomi O'Shaughnessy
(Ennis Community College),
Eve O'Sullivan
(Salesian Secondary College, Pallaskenry), 
Caoimhe Riordan
(Coláiste Íde agus Iosef, Abbeyfeale)
MANAGEMENT |
Richard Grimes
&
Andrew Russell
(St. Caimin's Community School, Shannon),
Barry Ryan
(Presentation Secondary School, Thurles)
Carys Johnson
(Glanmire Community College),
Stephen Quinn
(Coach)
CONNACHT | Chellene Trill, Shauna Brennan, Hannah Walsh & Kate Slevin
(Claregalway College),
Theresa Kinnevey
&
Anna Fahey
(St. Paul's Secondary School, Oughterard),
Sarah Kiernan
&
Helen Monaghan
(Ursuline College, Sligo),
Annie Gough
(Jesus & Mary SS, Gortnor Abbey),
Muireann Devaney
(St. Clare's Comprehensive School, Manorhamilton),
Kate O'Dowd
(St. Nathy's College, Ballaghaderreen),
Saoirse Healey
(Presentation College, Athenry),
Erin Taheny
(St. Mary's College, Ballysadare),
Abbie Callanan
(Gort Community School),
Emer O'Neill
(St. Louis Community School, Kiltimagh),
Aoibheann Costello
(Scoil Bhríde, Mercy SS, Tuam),
Amy Mahon
(St. Joseph's Community College, Charlestown)
MANAGEMENT | Dom Coll (Presentation College, Athenry), Seamas MacEachmharcaigh, Sarah Farragher (both Sacred Heart School, Westport), Seán Boland, Fabienne Cooney (both Meánscoil Muire gan Smál, Convent of Mercy, Roscommon)
ULSTER | Orla Corry & Kelsey McAteer
(Loreto Community School, Milford),
Katelyn Doherty, Aoife Gallinagh, Louise Gallinagh & Emma Doherty
(Scoil Mhuire, Buncrana),
Rachel Lawne & Caoimhe Brennan
(St. Columba's College, Stranorlar),
Kate Toland
(Deele College, Raphoe),
Shannon Cunningham
&
Erin Doherty
(Coláiste Ailigh, Leitir Ceanainn)
Lucy Jane Grant
(Loreto College, Cavan),
Ciara McGarvey
(Pobalscoil Chloich Cheannfhaola, Falcarragh),
Kerry Brown
(Moville Community College),
Erin McLaughlin
(Carndonagh Community School),
Jessica Lesse
(St. Catherine's Vocational School, Killybegs),
Maria Bonner
(St. Columba's Comprehensive School, Glenties)
MANAGEMENT | Bridgeen Harley (St. Columba's College, Stranorlar), Emma Duffy (Loreto Convent, Letterkenny), Karen Henry (Mulroy College, Milford)
Friday, November 17
Ulster 2-7 Connacht | POTM Anna Fahey (St. Paul's SS, Oughterard)
Leinster 1-0 Munster | POTM Jessie Stapleton (Palmerstown CS)
Saturday, November 18
Ulster 0-2 Leinster | POTM Della Doherty (Coláiste Iosagain, Portarlington)
Connacht 3-0 Munster | POTM Muireann Devaney (St. Clare's CS, Manorhamilton)
Sunday, November 19
10.00am Munster v Ulster
11.30am Connacht v Leinster
Girls' Interprovincial Tournament Roll of Honour
| | | |
| --- | --- | --- |
| YEAR | WINNER | VENUE |
| 2000 | Munster | Galway |
| 2001 | Leinster | Ballybofey, Donegal |
| 2002 | Leinster | Ballybofey, Donegal |
| 2003 | Munster | Clare |
| 2004 | Leinster | Athlone |
| 2005 | Leinster | Athlone |
| 2006 | Munster | Athlone |
| 2007 | Munster | Athlone |
| 2008 | Munster | Athlone |
| 2009 | Leinster | Tullamore/Athlone |
| 2010 | Ulster | Tullamore/Athlone |
| 2011 | Munster | Tullamore/Athlone |
| 2012 | Leinster | Tullamore/Athlone |
| 2013 | Leinster | AUL Complex, Clonshaugh |
| 2014 | Leinster | AUL Complex, Clonshaugh |
| 2015 | Leinster | AUL Complex, Clonshaugh |
| 2016 | Leinster | AUL Complex, Clonshaugh |
END