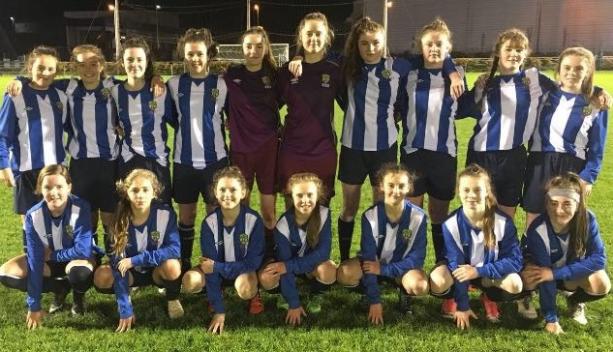 U15 Girls' Interprovincial Tournament
Dr. Fionnuala Quigley Memorial Trophy
Squads announced ahead of Interprovincial series
Thursday, November 16, 2017
This Friday (November 17) will see sixty eight of the top players in Irish schools line out for the FAI Schools U15 Girls' Interprovincial Tournament as the AUL Complex, Clonshaugh plays host.
The three day event will see a series of six matches played with Provinces awarded two points for a win and one point for a draw. The format leaves for an exciting finale in the Sunday morning outings.
The Interprovincial series will be the first step in the process of selecting the FAI Schools International Development squad of 18 players who will compete in the Bob Docherty Cup. The 2017/18 campaign will see the Republic of Ireland Schools select travel to Belfast for this season's Home Nations event. The International series will take place during the Easter Break from Saturday, March 24 to Monday, March 26. Prior to that the squad will take on England in the annual John Read Cup which will take place on Saturday, March 10 at Stafford Town FC.
THE FAMOUS FIVE
Leinster won a whooping fifth consecutive title last season which is a magnificent achievement for the province under the stewardship of veteran Paul Howard (Loreto College, Crumlin).
However, Howard has since stepped down from the helm following his wonderful endeavours over the years so it will be pressure on newcomer Rob Ellison (St. Raphaela's SS, Stillorgan) to continue winning ways.
Ellison will be joined by a new look management setup which will include teacher and Goalkeeping Coach Scott Gaynor along with Mags Doyle and Claire Kinsella.
The reigning Champions open their account against Munster at 4.30pm in the second of Friday's fixtures. The opening game that afternoon will see Ulster face off against Connacht at 3pm.
An impressive fourteen players will make a welcome return from last season with one from Leinster, two from Ulster, five from Munster and an astonishing six from Connacht all starring.
Four former International players will be included in this weekend's action as Connacht trio Kate O'Dowd (St. Nathy's College, Ballaghaderreen), Anna Fahey (St. Paul's Secondary School, Ougherard), Muireann Devaney (St. Clare's Comprehensive School, Manorhamilton) and Munster's Aoibheann Clancy (Presentation Secondary School, Thurles) all featured in the Bob Docherty Cup in 2016. One notable absentee for Connacht is student Emilia Koziel (Dominican College, Taylor's Hill) who was also capped last season at International level but returns to her native Poland this year and misses out on the cut.
The Interprovincial series for girls has always been a tight and competitive outing for the four teams involved.
The title holders will be looking to achieve something special on Sunday as Leinster are aiming for a six in-a-row this season. A feat that hasn't been achieved thus far in the competition's history.
Munster are the only other province to come close to this task when Richard Grimes' charges completed the treble in 2006, 2007, 2008.
Ulster last won the tournament outright in 2010 while Munster won the following season, 2011.
Connacht came agonisingly close to snatching the title back in 2012, only for Leinster to get an injury time winner courtesy of a converted penalty from Eleanor Ryan Doyle (St. Joseph's College, Lucan) to take the title in dramatic fashion in Athlone Town FC.
On paper Dom Coll's squad would appear to be strongest with International starlets Devaney, O'Dowd and Fahey accompanied by Claregalway College trio Chellene Trill, Shauna Brennan and Kate Slevin all listed. The sextet all impressed last season for the Westerners and will surely turn on the style when lining out for their Province.
Kingpins Ursuline College, Sligo have been quite successful of late in the FAI Schools Cup competitions and it's nice to see Helen Monaghan and Sarah Kiernan included in the line-up. 
It will be an interesting tie with Ulster in the first outing of the series as the versatile Kerry Brown (Moville Community College) and imposing Erin McLaughlin (Carndonagh Community School) came agonisingly close to making the step up to the International stage in 2016. Can the twosome progress this season and influence the game against a star studded Connacht select?
Donegal twins Aoife and Louise Gallinagh (Scoil Mhuire, Buncrana) will be joined by school-mates Katelyn Doherty and Emma Doherty this year for Bridgeen Harley's troops as well as centre half Kate Toland (Deele College, Raphoe). Kate is the younger sister of Tyler who came through the school ranks with the 16 year old already making a name for herself in Colin Bell's squad.
 
In the other draw, Munster will be equally as competitive with Tipperary pair Robin Carey (Coláiste Dun Iascaigh, Cahir) and Emer McCarthy (Cashel Community School) resuming their duties together with Aoife Horgan (St. Joseph's Secondary School, Ballybunion), and Emma O'Donoghue (Coláiste Muire, Ennis) all lining out with the experienced Clancy of Thurles.  Indeed Aoibheann's footballing ability has been thriving with her inclusion in Sharon Boyle's U16 plans this month which is a welcome addition. The Thurles thunderbolt picked up Player of the Match against England last March for the Republic of Ireland Schools in the annual John Read Cup.
Grimes' outfit will definitely enjoy testing themselves against the 2016 Champions when they take to the field on Friday afternoon.
Leinster on the other hand have a fresh host of debutants including Meath double act Jodie McQuillan (Beaufort College, Navan) and Abby McHugh (Dunshaughlin Community School) on show. Kilkenny's Ellen Molloy impressed for her school, Presentation Secondary School in the National Futsal Finals in Waterford last December and will make a positive impact when introduced.
The only player making a return from the match winning side is the experienced Zoe Leonard (Hartstown Community School) who will be one to watch out for.
There's a host of Dublin students appearing this season which will see schools represented from Balbriggan, Dalkey, Drumcondra, Donnybrook, Glasnevin, Hartstown, Palmerstown, Rathcoole, St. Stephen's Green and Tallaght. A wonderful combination of raw talent to be showcased on Friday evening as proceedings get under way.
Ellison and his crew will relish the challenge ahead of them with preparations going very well in the build up to this weekend. The squad were selected early and have enjoyed a number of friendly games which will ensure that the players blend well and get comfortable with the various styles of play applied by the new management team. 
INTERNATIONAL SELECTION
Following the three day series in Dublin on Sunday, an extended panel will be invited back for trial on Saturday, November 25 in FAI HQ, Abbotstown.
Richard Berkeley, teacher in Sancta Maria College, Louisburgh will manage the Irish select this season following the departure of Lorraine Counihan (Coláiste Mhuire, Buttevant). The Tallaght native will be joined by Karen Byrne (St. Ultan's, Navan), Lisa McMenamin (Davitt College, Castlebar) and Karen Henry (Mulroy College, Milford) as well as colleague Dave Rooney who will retain his position as Goalkeeping Coach.
In keeping with the long standing tradition of maintaining the interest in the competition until the final matches on Sunday morning, the draw for Saturday and Sunday's matches will be made following the games on Friday evening.
INTERPROVINCIAL PANELS
LEINSTER | Emma Ring (Loreto Secondary School, Balbriggan), Shannon Guildea (Drogheda Grammar School), Jodie McQuillan (Beaufort College, Navan), Abby McHugh (Dunshaughlin Community School), Abby Clarke (Muckross Park College, Donnybrook), Jessie Stapleton (Palmerstown Community School), Ellen Molloy (Presentation Secondary School, Kilkenny), Della Doherty (Coláiste Iosagain, Portarlington), Ella Maree (Woodbrook College, Bray),  Zoe Leonard (Hartstown Community School), Rachel McGrath (Holy Family Community School, Rathcoole), Lucy Edwards (Maryfield College, Drumcondra), Maria Reynolds (Loreto Abbey, Dalkey), Sophie Murray (Loreto College, St. Stephen's Green), Jess Lawlor (Coláiste Lorcain, Castledermot), Rugile Askainyte (St. Mary's Holy Faith Convent, Glasnevin), Aoife O'Leary (St. Mark's Community School, Tallaght)
MANAGEMENT | Rob Ellison (St. Raphaela's SS, Stillorgan), Clare Kinsella & Mags Doyle (Coaches), Scott Gaynor (Presentation College, Wexford)

MUNSTER | Leah Hayes Coen (Scoil Mhuire agus Ide, Newcastle West), Emma Barrett (Scoil Pól, Kilfinane), Robin Carey (Coláiste Dán Iascaigh, Cahir), Ellen Casey & Emma O'Donohue (Coláiste Muire, Ennis),  Aoibheann Clancy (Presentation Secondary School Thurles), Aoife Horgan (St. Joseph's Secondary School, Ballybunion), Aisling Kelly (Presentation Secondary School, Listowel), Kelly Leahy (Coláiste an Chroi Naofa, Cork), Emer McCarthy (Cashel Community School), Nicole McNamara, Ciara Houlihan & Anna Mullane (Coláiste na Trócaire, Rathkeale), Mia O'Connell (Coláiste Muire, Cobh) Naomi O'Shaughnessy (Ennis Community College), Eve O'Sullivan (Salesian Secondary College, Pallaskenry),  Caoimhe Riordan (Coláiste Íde agus Iosef, Abbeyfeale)
 MANAGEMENT | Richard Grimes & Andrew Russell (St. Caimin's Community School, Shannon), Barry Ryan (Presentation Secondary School, Thurles) Carys Johnson (Glanmire Community College), Stephen Quinn (Coach)
CONNACHT | Chellene Trill, Shauna Brennan, Hannah Walsh & Kate Slevin
(Claregalway College),
Theresa Kinnevey
&
Anna Fahey
(St. Paul's Secondary School, Oughterard),
Sarah Kiernan
&
Helen Monaghan
(Ursuline College, Sligo),
Annie Gough
(Jesus & Mary SS, Gortnor Abbey),
Muireann Devaney
(St. Clare's Comprehensive School, Manorhamilton),
Kate O'Dowd
(St. Nathy's College, Ballaghaderreen),
Saoirse Healey
(Presentation College, Athenry),
Erin Taheny
(St. Mary's College, Ballysadare),
Abbie Callanan
(Gort Community School),
Emer O'Neill
(St. Louis Community School, Kiltimagh),
Aoibheann Costello
(Scoil Bhríde, Mercy SS, Tuam),
Amy Mahon
(St. Joseph's Community College, Charlestown)
 
MANAGEMENT | Dom Coll (Presentation College, Athenry), Seamas MacEachmharcaigh, Sarah Farragher (both Sacred Heart School, Westport), Seán Boland, Fabienne Cooney (both Meánscoil Muire gan Smál, Convent of Mercy, Roscommon)
ULSTER | Orla Corry & Kelsey McAteer
(Loreto Community School, Milford),
Katelyn Doherty, Aoife Gallinagh, Louise Gallinagh & Emma Doherty
(Scoil Mhuire, Buncrana),
Rachel Lawne & Caoimhe Brennan
(St. Columba's College, Stranorlar),
Kate Toland
(Deele College, Raphoe),
Shannon Cunningham
&
Erin Doherty
(Coláiste Ailigh, Leitir Ceanainn)
Lucy Jane Grant
(Loreto College, Cavan),
Ciara McGarvey
(Pobalscoil Chloich Cheannfhaola, Falcarragh),
Kerry Brown
(Moville Community College),
Erin McLaughlin
(Carndonagh Community School),
Jessica Lesse
(St. Catherine's Vocational School, Killybegs),
Maria Bonner
(St. Columba's Comprehensive School, Glenties)
MANAGEMENT | Bridgeen Harley (St. Columba's College, Stranorlar), Emma Duffy (Loreto Convent, Letterkenny), Karen Henry (Mulroy College, Milford)
FIXTURES
Friday, November 17
3.00pm Ulster v Connacht
4.30pm Leinster v Munster
Saturday, November 18
1.00pm Match 3 Draw to be made on Friday evening
2.30pm Match 4 Draw to be made on Friday evening
Sunday, November 19
10.00am Match 5
11.30am Match 6
Girls' Interprovincial Tournament Roll of Honour 
| | | |
| --- | --- | --- |
| YEAR | WINNER | VENUE |
| 2000 | Munster | Galway |
| 2001 | Leinster | Ballybofey, Donegal |
| 2002 | Leinster | Ballybofey, Donegal |
| 2003 | Munster | Clare |
| 2004 | Leinster | Athlone |
| 2005 | Leinster | Athlone |
| 2006 | Munster | Athlone |
| 2007 | Munster | Athlone |
| 2008 | Munster | Athlone |
| 2009 | Leinster | Tullamore/Athlone |
| 2010 | Ulster | Tullamore/Athlone |
| 2011 | Munster | Tullamore/Athlone |
| 2012 | Leinster | Tullamore/Athlone |
| 2013 | Leinster | AUL Complex, Clonshaugh |
| 2014 | Leinster | AUL Complex, Clonshaugh |
| 2015 | Leinster | AUL Complex, Clonshaugh |
| 2016 | Leinster | AUL Complex, Clonshaugh |
 
END