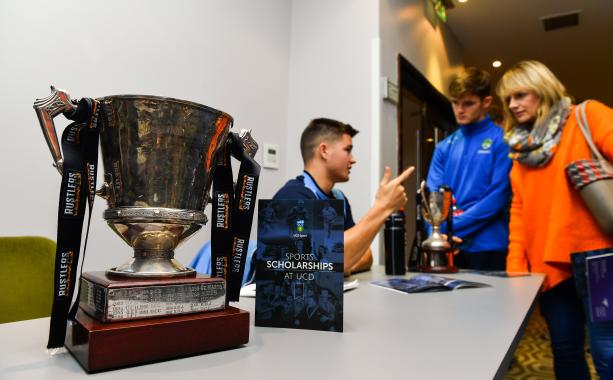 64 students got to discuss options with colleges & universities
The Schools and Third Level Football Department of the FAI hosted the Third Level Options Exhibition on Saturday morning as part of the FAI Schools Interprovincial Tournament in Dublin.
Players were advised about their Third Level Options and football in Third Level. The 64 students representing their provinces then got the opportunity to speak to all the colleges and universities in attendance.
There was an opportunity for the young prospects to listen to two Interprovincial alumni. Finn Valley College Guidance counsellor Rory White, who participated in the 1993 and 1994 competitions as a Deele College student, gave advice on Career Guidance and the different pathways a student can take following their Leaving Certificate.
SSE Airtricity League First Division winner Dáire O'Connor tasted success at the Interprovincial tournament with Leinster in 2014 whilst a pupil in Gaelcholáiste na Mara and has seen his playing career witness a significant upturn from the tournament with International Caps at School's U18s securing the Centenary Shield in 2015, progressing then to U19s, Colleges & Universities squads, as well as various trophies lifted during this time.
O'Connor attributed a lot of his success to his admission into UCD in 2015 and is currently studying a Masters, whilst also being a recipient of the prestigious Ad Astra Scholarship.
There were 14 Third Level Institutions represented by football coaches, current scholarship students and staff from the admissions offices' who were on hand to speak to all of the students. The Institutions present were:
1. Athlone Institute of Technology
2. Drogheda Institute of FE
3. Dublin City University
4. Dublin Institute of Technology
5. Institute of Technology Blanchardstown
6. Institute of Technology Carlow
7. Institute of Technology Sligo
8. Institute of Technology Tallaght
9. Maynooth University
10. National College of Ireland
11. Trinity College Dublin
12. University College Cork
13. University College Dublin
14. Waterford Institute of Technology 
The exhibition was a great success with the FAI's Third Level Football Department also developing a booklet for students which was very well received and included information from 29 Third Level Institutions.
National Co-Ordinator for Schools and Third Level Football, Mark Scanlon, discussed the importance of the event stating: "This is the third year that we have held the Third Level Options Exhibition where we invite a number of Colleges and Universities across the country to speak to the 64 Interprovincial players. We want to keep encouraging the holistic development of the players, so they can continue their playing and academic careers in tandem.
"We've seen a growing trend in the last number of years of male and female elite level players continuing their education. Football is a very short career and players need to focus on what they are going to do after they hang up their boots and in the present time there are excellent opportunities available with the growing number of sports scholarships being offered by Colleges and Universities. 
"It was fantastic to see all the players and their parents take a keen interest at this morning's event and I would like to thank the FAI Schools for allowing us to factor this important event into their Interprovincial tournament weekend."
Attached is an extensive guide to Third Level Football Options