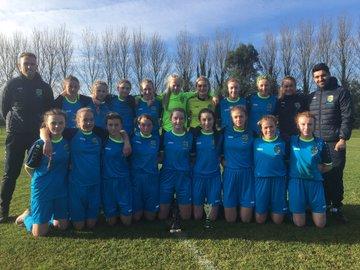 Under 15 Girls' Interprovincial Tournament

Dr. Fionnuala Quigley Memorial Trophy

Leinster retain Interprovincial title
Sunday, November 17, 2019 
REIGNING CHAMPIONS LEINSTER maintained their phenomenal record in this competition with a stunning performance this afternoon in the AUL Complex, Clonshaugh.
Rob Ellison's side only required a draw in the tie to see them victorious. A goal in each half was enough to see off title contenders Munster in a really entertaining contest.
The outing demonstrated the pedigree of the Leinster squad thus ensuring their seventh title in a decade.
The Champions continued their 100% record in the series and put in a flawless display to notch up five goals in three games and maintain an impressive clean sheet among some tough opponents.
They emulated the success of the Under 18 Boys' Leinster side following their win last week in the same venue, cementing an impressive double in the Interprovincial series.
MATCH DAY THREE
Abbie Larkin was industrious in the opening period and dragged an effort short of the far post a few minutes in. However LARKIN hit the back of the net with 11 minutes played when Aoife Kelly (Presentation College, Carlow) played a lovely ball to the feet of the Ringsend grad, who latched onto it from outside the box.
Leinster could have went 2-0 up just before the break as Eve O'Brien's strike hit the crossbar.
Ellison's side extended their lead nine minutes into the restart with O'Brien (Woodbrook College, Bray) showing some fancy footwork with both feet to slot past the diving Munster shot-stopper from distance.
Munster were plagued with injuries but kept looking for an elusive goal to bring them back into contention. However, Leinster's defence were alert to the challenge and smartly saw the game out to ensure a worthy victory in the end.  
In the other outing of the morning, it was Rola OLUSOLA that netted a brace to see off Ulster in their final appearance in the contest.
The Merlin College scholar hit two second half goals, the first coming four minutes in while Ulster equalised through an OG on 44 minutes with a delightful corner kick.
Connacht went ahead two minutes later with a brilliant finish from Olusola.  
POTM
Presentation College, Carlow star Aoife KELLY was selected as the Player of the Match in the Leinster vs Munster game. Tournament Ambassador Ellen Molloy (Presentation Secondary School, Kilkenny) was on hand to do the honours.
Kelly was inspirational in her performance throughout the sixty minutes and had a super campaign for her province over the 3 days.
And not mistaking the colossal contribution from Connacht talent, Rola OLUSOLA, her exhibition of football merited her accolade against Ulster.  
MATCH DAY TWO
The Saturday afternoon fixtures saw Leinster claim the two points over Ulster. Larkin CC student Leah Tighe had her initial strike hit off the crossbar but Abbie LARKIN (Ringsend College) was on hand to tap in at the far post on 17 minutes. 
Their lead was doubled ten minutes from time when an audaciously high ball in the box was deemed to have crossed the line from an Eve O'BRIEN (Woodbrook College, Bray) attack.
While Munster and Connacht played out a five goal thriller in the later fixture.
Munster were two up inside thirteen minutes through Captain Heidi O'Sullivan. The Regina Mundi College scholar had some lovely passages of play with Shauna Pearson (St. Mary's SS, Newport) to bag her brace.
However Connacht got a foothold in proceedings to bring the game level with two screamers from Isabella Fitzpatrick (Dominican College, Taylor's Hill) ten minutes from time.
There was a serious injury to Meabh Russell (Loreto SS, Clonmel) which saw a lengthy delay and four minutes of injury time played.
Again it was a match winning performance from Captain O'Sullivan who popped up with a 35 yard free kick to win the game for Munster, thus securing her hat-trick with seconds left in the bruising encounter.  A wonderful showcase from both teams.

POTM 

Alannah McEvoy was in attendance to present the Player of the Match. The Bray underage International selected Tara O'HANLON (Castleknock CC) as the recipient following her dynamic performance against Ulster while hat-trick hero and Captain Fantastic Heidi O'SULLIVAN (Regina Mundi College, Cork) was named in the other impressive show piece. 
MATCH DAY ONE
A Leah TIGHE (Larkin CC) rocket nine minutes from time set up the defending Champions nicely against Connacht in the opening match, winning out 1-0 to Dom Coll's crew. A really enjoyable test for both teams which may have merited a draw over the sixty minutes.
It was honours even in the second game of the evening with Munster and Ulster finishing one apiece.
Coláiste Ailigh star Erin Doherty hit the woodwork six minutes from the interval while Ellie LONG (Carndonagh CS) broke the deadlock five minutes into the restart.
Munster responded ten minutes later with Niamh COTTER (Coláiste na Toirbhirte, Bandon) equalising.
POTM
Abbie LARKIN (Ringsend College) and Ellie LONG (Carndonagh Community School) secured the silverware with Ambassador Nadine CLARE (Loreto SS, Foxrock) announcing the Player of the Match winners.  

INTERNATIONAL SELECTION
As well as provincial honours this weekend, the International management staff use this tournament as the key recruiting tool for their Republic of Ireland Schools select.
Following the tournament this afternoon, an extended panel will be invited back for trial on Saturday, November 30 in FAI HQ, Abbotstown.
Richard Berkeley, teacher in Sancta Maria College, Louisburgh had a fabulous management debut in 2018 and this was followed up with another remarkable record last year retaining the Bob Docherty Cup and John Read Trophy in sunny Salou.
The standard of football has been immense this year and Berkeley and his management team will be looking to capture an elusive three in-a-row when the squad travel to Manchester at Easter to compete in the Home Nations tournament.
The 68 players lined out this weekend will be hoping for a call-up in a fortnight's time as Berkeley's title defence will be on the line.
INTERPROVINCIAL PANELS
CONNACHT | Sarah Kiernan (Abbey Community School, Boyle), Kate Thompson, Hannah Glynn (Coláiste Iognáid, Galway), Lara Swann (Sligo Grammar School), Leanne Regan, Eve Dossen, Daisy O'Connell, Leah O'Connor, Isabella Fitzpatrick (Dominican College, Taylor's Hill), Heather O'Sullivan (Roscommon Community School), Katie McGuire (Grange Post Primary School, Sligo), Alice Lillie (Ursuline College, Sligo), Rola Olusola (Merlin College, Galway), Kerri Ann O'Hara, Rebecca Doddy, Jessica Casey (St. Attracta's Community School, Tubbercurry), Sky Corcoran (Presentation College, Athenry)
MANAGEMENT | Dom Coll (Presentation College, Athenry) Fabienne Cooney (Claregalway College), Stephen Lacken (St. Patrick's College, Lacken Cross), Sinead O'Donovan (Coach)
 
ULSTER | Leah McLoughlin, Rachael Friel (Mulroy College, Milford), Ella McHugh, Shania McMonagle (Deele College, Raphoe), Niamh Harkin, Jodie Loughrey (Scoil Mhuire, Buncrana) Ellie Long (Carndonagh Community School) Erin Doherty (Coláiste Ailigh, Letterkenny) Stranorlar) Erika Gallagher, Nicole McDaid, Hannah Hopkins, Darcey Kelly (Loreto Convent, Letterkenny), Ciara Molly (Gairmscoil Chú Uladh, Ballinamore), Sarah McGinley, Emily Irwin, Siobhán Cameron (Loreto Community School, Milford), Claire Diver (Rosses Community School, Dungloe)
MANAGEMENT | Bridgeen Harley (St. Columba's College, Stranorlar), Emma Duffy (Loreto Convent, Letterkenny), Karen Henry (Mulroy College, Milford), Paddy McDaid (Finn Valley College, Stranorlar)
 
LEINSTER | Summer Lawless (Ballymakenny College, Drogheda), Ava Gibson Doyle (St. Laurence College, Loughlinstown), Liadan Clynch (Bush Post Primary School, Dundalk), Aoibhe Fleming (Lucan Community College), Jessie Stapleton (Palmerstown Community School), Jade Flannery (Clonturk Community College), Eve O'Brien (Woodbrook College, Bray), Leah Tighe (Larkin Community College), Katie Law (Presentation Secondary School, Wexford), Allie Larkin (Ringsend College), Kate Skillington (Santa Sabina Dominican College), Orlaith O'Mahony (St. Farnan's Post Primary School, Prosperous), Tara O'Hanlon (Castleknock Community College), Ruby Atkinson (St. Joseph's Secondary School, Rush), Ciara Giles (Dominican College, Griffith Avenue), Claudia Keenan (Ardscoil Rathagan), Aoife Kelly (Presentation College, Carlow)

MANAGEMENT | Rob Ellison (St. Raphaela's SS, Stillorgan), Scott Gaynor (Presentation SS, Wexford) Rachel Graham (Coach)
MUNSTER | Caoilinn Casey, Jenny Ryan (Cashel Community School), Meabh Russell (Loreto Secondary School, Clonmel), Libby Costelloe (Laurel Hill Secondary School), Nicole Nix (Laurel Hill Coláiste), Jodie Griffin (Ardscoil Mhuire, Corbally), Ellie O'Brien (Scoil Muire gan Smál, Blarney), Heidi O'Sullivan (Regina Mundi College, Cork), Caoimhe Golden (Coláiste Choilm, Ballincollig), Michaela Lawrence, Grace Flanagan (Presentation Secondary School, Thurles), Grace Fitzpatrick, Sarah Bell (Ursuline Secondary School, Thurles), Ellie O'Brien (Scoil Muire gan Smál, Blarney), Leah Martin (Scoil na Tríonóide Naofa, Doon), Shauna Pearson (St. Mary's Secondary School, Newport), Niamh Cotter (Coláiste na Toirbhirte, Bandon), Amy Madden (St. Patrick's Comprehensive School, Shannon)

MANAGEMENT | Barry Ryan (Presentation Secondary School, Thurles), Richard Grimes (St. Caimin's Community School, Shannon), Stephen Quinn (FAI Development Officer, South Tipperary) Pat Barrett (GK Coach), Emma Conway (St. Mary's Secondary School, Newport), Andrew Russell (Coach)
Friday, November 15
3.00pm Leinster 1-0 Connacht | POTM Abbie LARKIN, Ringsend College
4.30pm Ulster 1-1 Munster | POTM Ellie LONG, Carndonagh Community School
Saturday, November 16
1.00pm Leinster 2-0 Ulster | POTM Tara O'HANLON, Castleknock College
2.30pm Munster 3-2 Connacht | POTM Heidi O'SULLIVAN, Regina Mundi College, Cork
Sunday, November 17
10.30am Connacht 2-1 Ulster | POTM Rola OLUSOLA, Merlin College, Galway
10.30am Munster 0-2 Leinster | POTM Aoife KELLY, Presentation College, Carlow

Girls' Interprovincial Tournament Roll of Honour

*Senior U18

| | | |
| --- | --- | --- |
| YEAR | WINNER | VENUE |
| 1994 | Leinster | Our Lady of Mercy College, Beaumont (vs Connacht) |
| 1995 | Leinster | *Longford Town FC (4 Provinces) |
| 1996 | Connacht | *Ballinasloe, Galway |
| 1997 | Leinster | *Ballinasloe, Galway |
| 1998 | Leinster | *Wilson's Hospital School, Multyfarnham |
| 1999 | Leinster | *Wilson's Hospital School, Multyfarnham |
| 2000 | Munster | *Athlone |
| 2001 | Leinster | *Dangain, Galway |
| 2002 | Leinster | *Clare |
| 2003 | Munster | Clare (Current U15 level) |
| 2004 | Leinster | Athlone |
| 2005 | Leinster | Athlone |
| 2006 | Munster | Athlone |
| 2007 | Munster | Athlone |
| 2008 | Munster | Athlone |
| 2009 | Leinster | Tullamore/Athlone |
| 2010 | Ulster | Tullamore/Athlone |
| 2011 | Munster | Tullamore/Athlone |
| 2012 | Leinster | Tullamore/Athlone |
| 2013 | Leinster | AUL Complex, Clonshaugh |
| 2014 | Leinster | AUL Complex, Clonshaugh |
| 2015 | Leinster | AUL Complex, Clonshaugh |
| 2016 | Leinster | AUL Complex, Clonshaugh |
| 2017 | Connacht | AUL Complex, Clonshaugh |
| 2018 | Leinster | AUL Complex, Clonshaugh |
| 2019 | Leinster | AUL Complex, Clonshaugh |