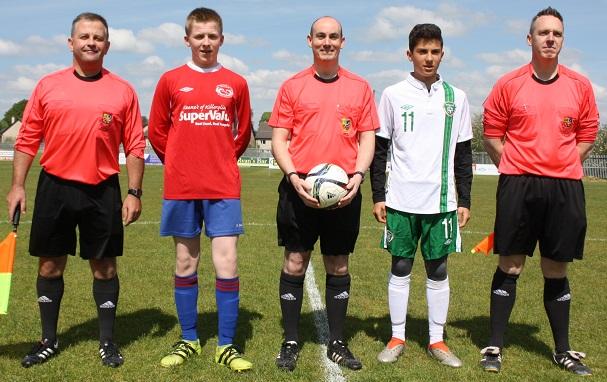 Dublin Oak on course to defend Cup title
Bank of Ireland FAI Schools First Year 'B' Boys National Cup Semi Final
Saturday, May 6, 2017
Dublin Oak Academy, Bray 1-0 Intermediate School, Killorglin
Gilberto Encinas (33)
DUBLIN OAK ACADEMY, BRAY narrowly defeated newcomers Intermediate School, Killorglin in a highly entertaining encounter at Nenagh AFC yesterday (Friday, May 5).
The match winner came three minutes into the second period when Gilberto Encinas' strike goal-bound deceived the Killorglin defence to deflect past Jake Reensticrna who could do nothing about it. A soft goal to concede but this would prove crucial in a pulsating Cup tie that was sure to impress.
The Bray outfit had a mix of nationalities lined out in the Irish away kit following a clash of colours with their opponents as students from Mexico, Chile, Spain and Portugal all lined out for John McShane's side.
The scholars were well coached and evidence of this came when they were awarded their first corner kick of the day. It went short for Captain Alejandro Mtanous to whip into the danger zone. His looping pass found David Villarreal who had a free header at the back post. Fortunately goalkeeper Jake Reensticrna was well positioned to get down and save bravely in a packed area.
Some crunch tackles were flying in as the game was end to end with both sides producing some excellent passages of play.
Kieran Dennehy was causing all sorts of problems for the Bray defence down the right wing, midway through the first half, but France Fossi and Sebastian Saldana Aguilar were well equipped to offset his attacking prowess.
Emilio Lopez had a great chance to break the deadlock two minutes from the interval but again Reensticrna was on hand to produce another excellent save to deny the reigning Champions.
It was scoreless at the interval.
The game opened up three minutes into the restart as Marcelo Toriello fed Gilberto Encinas at the edge of the Killorglin box. The youngster sent a powerful strike on target for the ball to be deflected past Reensticrna for a slight advantage to the Bray School.  
Killorglin were unlucky not to score shortly after the restart as Oscar Antonio Almaraz palmed the ball to safety following a mix up with his defensive quartet as Eoghan Hassett thought he was gifted an equaliser.
Darragh O'Regan's crew were again denied a goal on 49 minutes as France Fossi cleared off his line following a wonderful execution from Adam Owens. Eoghan Hassett's earlier effort was knocked clear by the Bray Keeper as Killorglin kept the pressure on McShane's charges.
Dublin Oak absorbed the pressure for much of the second half and attempted some long range efforts courtesy of Toriello and Giaszella, as they both tested Reensticrna on a number of occasions but to no avail.
Chris Palmer had an excellent game for the Kerry side who will no doubt be back in contention for more Munster titles following their heroic performance but unfortunately fell short this time out.
Dublin Oak Academy advance to the Cup Final which will see them line out against Manorhamilton's St. Clare's Community School who will fly the flag for Leitrim in what should prove to be a classy affair. The Connacht Champions defeated Mulroy College, Milford 8-2 in Monaghan last week so they will definitely be confident heading into this crunch decider.
The Bray side are reigning National Cup holders after defeating Coola PPS, Sligo last season to capture the title for the first time in the history of the competition. Can they retain their title or will St. Clare's prove a step too far. The Bank of Ireland FAI Schools First Year 'B' National Cup Final will take place this Wednesday, May 10 at 1pm in City Calling Stadium, Longford.
DUBLIN OAK ACADEMY, BRAY | Oscar Antonio Almaraz, France Fossi, Sebastian Saldana Aguilar, David Villarreal, Gilberto Encinas, Emilio Lopez, Miguel Sabog, Alvaro Martín, Rómulo Romero, Marcelo Toriello, Alejandro Mtanous
SUBS | Ignaecio Giaszella for Sabog (15), Jesus Saldana, Eduardo Piera, Sergio Flores, Gerardo De Santiago for Romero (45)
TEACHER | John McShane
INTERMEDIATE SCHOOL, KILLORGLIN | Jake Reensticrna, Chris Palmer, Darragh Callan, Tim Casey, Matt Reensticrna, Conor Spillane, Kieran Dennehy, Jack O'Sullivan, Adan Owens, Tom Whittleton, Eoghan Hassett
SUBS | Cillian Foley for M Reensticrna (52), James Treacy for Dennehy (45, reversed then 55), James Lonergan, Marc O'Sullivan Rousse for Owens (28), Daire Murphy
TEACHER | Darragh O'Regan & David Stanton
REFEREE | Paul Horgan (Tipperary)