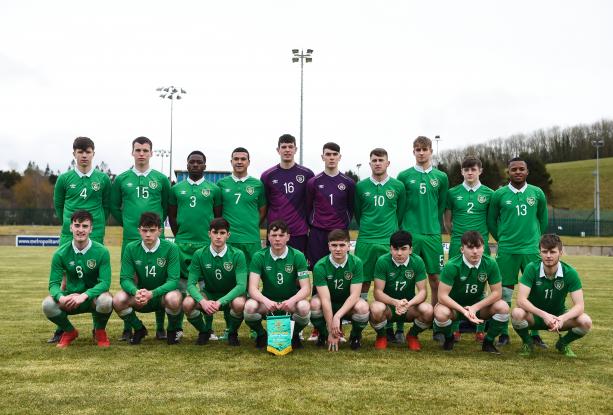 Centenary Shield | U18 Boys' International
Monday, April 2, 2018
Republic stalemate with Northern counterparts
Republic of Ireland 0-0 Northern Ireland
The Republic of Ireland played out their second consecutive scoreless draw of the Centenary Shield series when they entertained Frank Wilson's side in Monaghan United FC last Thursday (March 29)
William O'Connor's Schools select had enjoyed a fruitful opener with Wales in mid-February which saw them take full points away from home. Unfortunately they couldn't replicate this form in Luton when the English proved tougher opponents, with the game ending in a goalless deadlock.
Surprisingly this was Northern Ireland's third draw of their campaign following a 0-0 draw in Scotland, shortly followed up by a 1-1 result at home to Wales.
With both sides wanting to command a foothold on proceedings that afternoon, it was nothing less than a physical battle in Gortakeegan as the game kicked off. O'Connor's side created more of the chances in the first period with Coolock grad Ali Regbha and Trim's Cian Lee the more industrious players of the afternoon.
The Republic of Ireland had a glorious chance to take an early lead five minutes in when Coláiste Dún Iascaigh pupil and team Captain Cian Murphy played a brilliant diagonal ball to Chanel College star Ali Regbha whose shot was saved by the athletic goalkeeping of Declan Dunne.
O'Connor's side were unfortunate not to convert with a quarter of an hour played when Peter Adigun's counter attacking saw him play a long ball into Cian Murphy but the youngsters rocket from twenty yards out hit the crossbar.
It was scoreless at the interval.
Yeats College student Ryan Manning saw his shot blocked bravely in the box as Ruairi O'Hare put his body on the line and minutes later Manning saw his long range effort sail over the upright after the hour mark.
Cian Murphy and Cian Lee both tested the goalkeeping prowess of Dunne only to be outwitted by the Mercy College, Belfast pupil.
With ten minutes of the game to go, substitute Lido Lotefa was played in by Ali Regbha but again the versatile shot-stopper Dunne was in exceptional form to deny the Balbriggan scholar.
O'Connor and Wilson will both feel that there was points dropped following this frenzied encounter which now see the Republic of Ireland top of the leader board on five points while Northern Ireland are down the pecking order on three.  
Centenary Shield Series
Following the dismissals of Alaric Jones and Harri Lucas Jones, 9 man Wales defeated England 1-0 in Cardiff Met in the other outing on Thursday evening. An own goal with just three minutes on the clock saw Marc Llyod Williams' side record an historic victory.
With England yet to score in this series, Ben Lavelle's side sit at the bottom of the table on one point following their opening day draw and two defeats. Last week's result will no doubt put England's hopes of retaining the title in tatters.  
Meanwhile Scotland and Wales will enjoy their final series of matches with four points collected to date with must wins on the cards!
Next Up
England will travel to Queen's University, Belfast where they take on their hosts, Northern Ireland this Friday evening with a 7pm kick off scheduled. England will be looking for some vital goals and more importantly an away win while the North will want to finish their campaign on a high with a home win.
The Republic of Ireland will have time to analyse their performance as their final outing in the series is on April 12 in Home Farm FC (2pm). This is potentially a winner takes all scenario against Scotland.
The visitors are on four points with a game in hand as the series finale will be played out on April 19 when the Tartan Army entertain Wales.
REPUBLIC OF IRELAND | Luke McNicholas (Balla Secondary School), Peter Adigun (Riversdale Community College), Darryl Walsh (St. Declan's Community College), Adam O'Connor (St. Clare's College, Ballyjamesduff), Cian Lee (Boyne Community School, Trim), Ronan Manning (Yeats College, Galway), Rory Doyle (St. Francis College, Rochestown), Liam Kerrigan (St. Attracta's CS, Tubbercurry), Ali Regbha (Chanel College, Coolock), Jake Walker (St. Kevin's Community College, Clondalkin), Cian Murphy CAPTAIN (Coláiste Dun Iascaigh, Cahir),
SUBS USED | Lido Lofeta (Balbriggan Community College) for Manning 70, Kieran Farren (Carndonagh Community School) for Lee 87, Jack Ryan (Templeogue College) for Regbha 87.
SUBS NOT USED | Daniel Houghton (Carndonagh Community School), Adam Conway (De La Salle College, Waterford), Adam Rooney (Yeats College, Galway), James Carroll (St. Oliver's Community College, Drogheda).
MANAGEMENT | Head Coach William O'Connor (Balbriggan Community College), Coach John McShane (Dublin Oak Academy, Bray),  GK Coach Conor Foley (Athlone Community College), Performance Analyst Ollie Horgan (St. Eunan's College, Letterkenny), Physio Mickey McGlynn Doctor Aiden O'Colmain
NORTHERN IRELAND | Declan Dunne, Caolin Coyle (Captain), Aaron Donnelly, Kofi Balmer, Ruari O'Hare, Liam Hassin,  Dónal Rocks, Jack Malone, Aaron McGurk, Adam Carroll, Patrick Burns
SUBS USED | Jack O'Mahony for Donnelly HT, Pablo Andrade for McGurk 53, Jack Henderson for Malone 69, Andrew Scott for Rocks 73.
SUBS NOT USED | Scott Pengelly (GK), Adam McAleenan, Caoimhin McConnell
2018 Centenary Shield Results
February 15         Wales 1-2 Republic of Ireland                       The Rock, Cefn Druids FC (7pm)
March 9                Scotland 0-0 Northern Ireland                    Renfrew FC (7pm)
March 15              Northern Ireland 1-1 Wales                             Armagh City AFC (2pm)
March 16              England 0-0 Republic of Ireland                Kenilworth Stadium, Luton Town FC (7pm)
March 23              England 0-2 Scotland                                      Bootham Crescent, York City FC (7pm)
March 29             Republic of Ireland 0-0 Northern Ireland        Monaghan United FC (2pm)
March 29             Wales 1-0 England                                              Cardiff Metropolitan University FC (7pm)
2018 Centenary Shield Fixtures
April 6                   Northern Ireland vs England                        Queen's University, Belfast (7pm)
April 12                  Republic of Ireland vs Scotland                  Home Farm FC, Whitehall (2pm)
April 19                 Scotland vs Wales                                             Queen of the South FC (7pm)
END