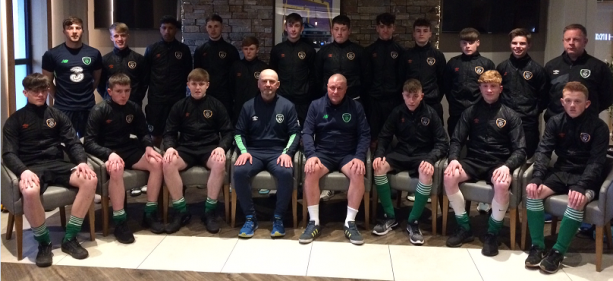 Monday, April 2, 2018
 LD Home Nations Championship kicks off in Belfast
NORTHERN IRELAND will host the 2018 U19 Learning Disability Home Nations Championship this week as Oisin Jordan's Republic of Ireland make the short trip North, in search of glory.
The Championships will commence tomorrow morning (Tuesday, April 3) and conclude on Friday, April 6 with hosts Northern Ireland, Republic of Ireland, Scotland and Wales all in contention.
Seaview Stadium, home of Crusaders FC and Solitude, Cliftonville FC will be the two match venues for the annual tournament.
The U19 Learning Disability Home Nations Championship was actually founded in Northern Ireland in 2004. However, the 2015 win in Newport, Wales has been the only success for Northern Ireland to date. They will be hoping that home advantage will pave the way for more success in 2018
Scotland will be hot favourities entering this contest having secured the title in Abbotstown last season, ensuring a fourth win in five years. Can they maintain their dominance at this level by completing an impressive three in a row this week?
Oisin Jordan is the FAI's Football for All National Co-ordinator and Head Coach of the Republic of Ireland Schools select and he is looking forward to the challenge immensely, "We've held a number of regional trials to select the best panel possible with two excellent training days in March and an extremely beneficial training camp held in the AUL over the weekend".
The Republic of Ireland will look forward to their return to Belfast this afternoon as they captured the 2009 title there, can they replicate the same success in 2018?
The Irish will travel to the team hotel, Chimney Corner Hotel in Belfast this evening and will relish the opportunity that this week will bring them.
It will be the first taste of International football for most of the 16 scholars selected as the players hail from educational establishments in Sligo, Waterford, Cork, Limerick, Tipperary, Dublin and Carlow.
The Republic of Ireland will open their account against Northern Ireland in Match Day 1 while Wales and Scotland face off in tomorrow's afternoon fixture.
Wednesday's schedule will see the hosts entertain last season's runners up Wales while the Republic of Ireland come to grips with the reigning Champions Scotland.
With a rest day on Thursday, the final series of matches on Friday morning will see the Republic of Ireland out against Wales while Northern Ireland play Scotland.
Coach Dave Bell feels that preparations were satisfactory this year and that the tournament may be decided in the first outing tomorrow against the hosts. The Championship is so competitive nowadays that each nation will want to make an immediate impact on the Championship draw.
Bell states, "The players have trained hard in preparation for this tournament. Our two friendly matches against Ballinteer Community College and St. Benildus College were very beneficial as the players would not have played competitively together to date this season. Our Captain Calvin Moran has been fantastic for us so we will be looking to him to guide his side to victory."
Over the past few years the standard of football has risen with other competing countries having more contact hours with the players and a good recruitment campaign established to attract these players.
The Republic of Ireland were at a slight disadvantage with their short time together, making it a little more difficult to prepare the squad properly. However, this young Irish team will go into the tournament with confidence knowing a win against the old foe on day one will set them up nicely for the week.  
For further information on the Republic of Ireland's progression in the tournament, please email Head Coach oisin.jordan@fai.ie   
REPUBLIC OF IRELAND | Ultan McKenna, Finn Young, Orin Mitchell, Eoghan Donaghy, Samuel Buick (all Summerhill College, Sligo), Ben Sheehan (St. Bernadette's Cork), Danny Lawlor & Calvin Moran (Captain) (both Catherine McCauley, Limerick), Gary Delaney (Colaiste Mhuire, Clonmel), Glen Ward (St. Augustine's College, Blackrock, Dublin), Teo Hajii (St. Mark's College, Tallaght), Robert Barrett (Scoil Chiaráin, Dublin), Lee Kearney (St. Kevin's, Cabra), Josh Fitzgerald (St. John's Dungarvan), Jake McCarthy (Scoil Chormaic, Cashel), Colm Kinsella (St. Laserian's School, Carlow).
NORTHERN IRELAND | Ross Horner, Josh Harwood, Jack Andrews, Jake Ross, Callum Ross, Samuel Anderson, Keanu Griffin, Cameron Crawford, Curtis Hunter, James Clarke, Will Mangwandi, Matthew English, John Cush, Brandon Adamson, Adam Wright, Ben Welch, Dylan Galloway, Ross Wylie. 
WALES | Sean Kelly, Mason DeInivo, Callum Davies, Jonathan Lloyd Jones, Jordan Wright, Bradley Lawrence, Xavier Matisee, Ryan Cook, Cawley Valance, Dylan Hughes, Kieran Ralls, Sam Baksh Jones, Lincoln Anderson, Jake O'Brien, Jamie Hall, David Povey, Will Davies, Joseph Hewings.
SCOTLAND | Dylan Cramb, Reece Pollock, Owen Anderson, Liam Boyle, Dylan Brown, Matthew Mitchell, Cameron Steer, Jake Fraser, Liam Harvey, Francis Hollern, Jakob McDonald, Struan McClean, James McTaggart, Ronan Duncan, Barry Ferguson, Kevin Gallacher, Lewis McGinty.
LD Home Nations Championship Fixtures
Tuesday, April 3, Solitude, Cliftonville FC
Northern Ireland vs Republic of Ireland, KO 11am
Wales vs Scotland, KO 2pm
Wednesday, April 4, Seaview Stadium, Crusaders FC
Northern Ireland vs Wales, KO 11am
Scotland vs Republic of Ireland, KO 2pm
Friday, April 6, Solitude, Cliftonville FC
Republic of Ireland vs Wales, KO 10.15am
Friday, April 6, Seaview Stadium, Crusaders FC
Northern Ireland vs Scotland, KO 11am
Followed by Trophy Presentation at 1pm
END