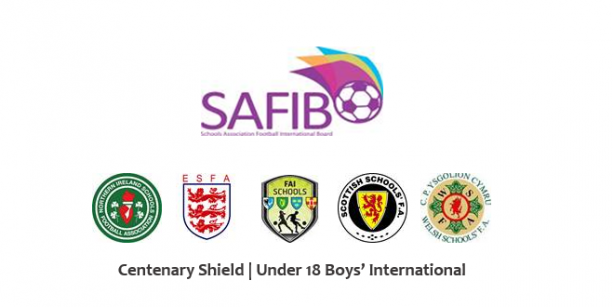 Friday, March 8, 2019
Northern Ireland and Wales take full points from this week's Centenary Shield encounters which saw a home win for Frank Wilson's side in Seaview on Thursday afternoon against Scotland while Wales had a late rally away from home to secure the honours against England tonight (Friday).  
A solitary goal courtesy of Ryan CARMICHAEL was enough to see Northern Ireland overcome a determined Scotland side while a magnificent solo run from Jack Wilson saw substitute Charlie CATON tap the ball past keeper Tickle to upset their hosts in the 92nd minute. 
Northern Ireland carved out a few opportunities from set pieces in the first period but Buckie High School scholar Lee Herbert did enough under the ariel assault to keep a clean sheet.  
It was early in the second half when the hosts converted, with the goal coming courtesy of a free kick as Carmichael latched onto a cross deep in the box. His initial header on target was palmed away by Herbert but the rebound feel nicely for Carmichael to tap home from close range.  
In Friday's outing, there were many talking points. Firstly the visitors should have been one up just before the break but Jack Wilson was deemed to be off-side as it remained scoreless at half time.
Green's save to deny Johnstone was outstanding in the 68th minute.
While two minutes later, Welsh Head Coach Marc Lloyd William's saw red as he received his marching orders from the match official having previously been warned along with his number two in the Welsh dugout. 
Despite the wonderful performances from Tarbotton, Johnstone, Rule and Taylor, the English were undone by a wonderful piece of magic from the hardworking Jack Wilson as he collected the ball from the edge of his own box to run the full length of the pitch deceiving three defenders. Charlie Carton was on hand to snatch the ball and drive it into the open goal for the match winner in the second minute of injury time. High drama all round as the Welsh collect three valuable points in a highly pulsating tie.
The table toppers, Wales and Northern Ireland will face off next Thursday as Aberystwyth Town FC play host. It will be a fascinating contest as both sides look to extend their advantage in this season's series.
England will regroup as they travel to Inveririe Loco FC the week after to take on Scotland in a must win game for both sides.
The Republic of Ireland's season opener will take place on match day five of this competition when they travel to Ayr United FC to take on the tartan army on March 28.
Then it will be three games on the bounce for the Irish scholars as they take on England in Dalymount Park on April 12, followed by a short trip to Queen's University to entertain Northern Ireland on April 18 and their final showdown will be against Wales in Home Farm on April 25 for the conclusion of the Shield endeavours.
O'Connor has nineteen players in the mix at this stage of proceedings as he awaits the fitness and availability of some of the players that featured for him against Australia in mid-January.  His next meeting with the squad will be in a fortnight's time when the tough decision will be made in relation to his final squad for the four competitive outings.
NORTHERN IRELAND | McLaughlin, Smith, Burns (C), McGarvey, O'Hare, Corbett, Carmichael, Ferris, Whiteside, Hume, Hassin 
SCOTLAND | Herbert, Cameron, Doig, Stafford, Thompson, Baird, Romanis, L. Cameron, Andrew, Mulligan, Smith
ENGLAND | Tickle, Malila, Tarbotton (C), Taylor, Storey, Johnstone, Dickson, Greenwood, Windsor, Sinclair, Rule 
WALES | Green, Vanstone, Lloyd, Jenkins (C), Beaumont, T. Williams, Wilson, Vickery, Evans, Jones, C. Williams
REPUBLIC OF IRELAND EXTENDED PANEL | David Odumosu (O'Fiaich College, Dundalk), Seán McEvoy (Virginia College Cavan), Keith Carter (Colaiste Choilm Swords), Josh Honohan (St. Francis College, Rochestown), Daragh Ellison (St. Eunan's College, Letterkenny), Corey McBride (Carndonagh Community School), Niall O'Keeffe (Captain) (De La Salle College, Waterford), Matthew O'Reilly (Midleton CBS, Cork), Colin Kelly (St. Joseph's College, Galway), Dónal Higgins (Yeats College, Galway), Brandon Bermingham (St. Mary's Diocesan School, Drogheda), Gearoid Mulligan (Summerhill College, Sligo), Jack Doherty (Carndonagh Community School), Adam Lynch (Summerhill College), Ross Tierney (St. Aidan's CBS, Whitehall), Jamie Cleary (Drimnagh Castle CBS), James Clarke (Boyne Community School, Trim), Jake Ellis (Oaklands College, Dublin), Lee McLaughlin (Carndonagh Community School), Reece Murphy (Wexford CBS)
MANAGEMENT | William O'CONNOR, Head Coach (Balbriggan Community College),  John McSHANE, Assistant Coach (Dublin Oak Academy, Bray), Ollie HORGAN, Performance Analyst (St. Eunan's College, Letterkenny), Conor FOLEY, GK Coach (Athlone Community College), Michael McGLYNN (Physio), Dr. Aidan O'COLMAIN (Team Doctor), Derek O'BRIEN, Equipment Manager (Ardscoil na Mara, Tramore)
CENTENARY SHIELD RESULTS
MD1 | Thursday, March 7 | Northern Ireland 1-0 Scotland | Crusaders FC | Kick Off 3pm
MD2 | Friday, March 8 | England 0-1 Wales | Slough Town FC | Kick Off 7pm
CENTENARY SHIELD FIXTURES 
MD3 | Thursday, March 14 | Wales vs Northern Ireland | Aberystwyth Town FC | Kick Off 7pm
MD4 | Friday, March 22 | Scotland vs England | Inveririe Loco FC | Kick Off 7pm
MD5 | Thursday, March 28 | Scotland vs Republic of Ireland | Ayr United FC | Kick Off 7pm
MD6 | Friday, April 5 | England vs Northern Ireland | Redditch United FC | Kick Off 7pm
MD7 | Thursday, April 11 | Wales vs Scotland | Cefn Druids FC | Kick Off 7pm
MD8 | Friday, April 12 | Republic of Ireland vs England | Bohemian FC | Kick Off 7pm
MD9 | Thursday, April 18 | Northern Ireland vs Republic of Ireland | Queens University | Kick Off 6pm
MD10 | Thursday, April 25 | Republic of Ireland vs Wales | Home Farm FC | Kick Off 7pm
END