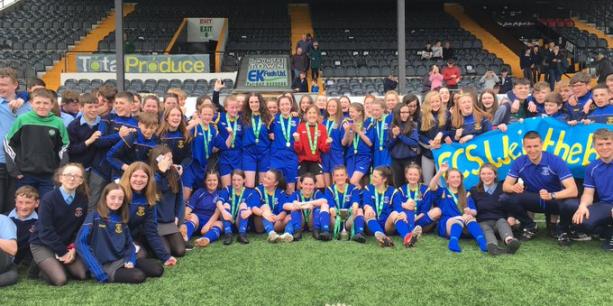 Rod Houston Cup
Schools Association Football International Board (SAFIB)
First Year Girls National Cup Champions (U14)
Carndonagh Community School set to make Home Nations Cup debut
Monday, September 30, 2019
CARNDONAGH COMMUNITY SCHOOL will represent FAI Schools this week in the Rod Houston Cup for the first time in the Schools history as Lilleshall National Sports Centre in Shropshire plays host.
As host nation, England will have two representative teams participating, namely their Champions Shenfield High School, Essex and runners up Crompton House Church of England School, Oldham. Also competing against the Donegal starlets will be Welsh Champions Ysgol Glan Clwyd, Saint Asaph.
Conor Doherty's side qualified for this prestigious event following a dramatic victory in the FAI Schools First Year Girls National Cup Final contest edging out Presentation Secondary School, Wexford in a five goal thriller in Oriel Park, Dundalk FC last May.
Extra time was required to divide these two top class sides. Carn Captain Fiona Doherty turned supplier for Schools International Ellie Long as she netted from close range after just 11 minutes. The Wexford equalizer came ten minutes later through Katie Law. 
Ellie Long scored her second of the afternoon courtesy of a super set piece to edge the contest 2-1 on 26 minutes. But again, Katie Law secured her brace to tie the game at 2 apiece 8 minutes from time.
The match winner came five minutes into extra time when Diver, Brennan and McCarron worked their magic to feed the ball into Clare Gill who made not mistake to take the title.  
Last year, Westport's Sacred Heart School made the journey to Lilleshall. The Irish girls had convincing wins over the other title contenders St. Ivo School and Ysgol Cymraeg Bro Morgannwg of Barry so it was winner takes all on the third day of action.  Bohunt School, Wokingham dispatched the Westport side 2-1 in a tantalising conclusion to ensure a runners up spot for the Republic of Ireland representatives.
2017 Champions, Presentation Secondary School, Kilkenny had a phenomenal tournament with the Cats notching up 32 goals in three games, only conceding twice to lift the title in remarkable fashion.
In 2016, Ursuline College in Sligo were runners up to eventual winners St. Ivo School in the very first tournament decider.
FIXTURES
The three day event will kick off on Wednesday afternoon (October 2) when Carndonagh Community School take on Crompton House Church of England School, Oldham at 4pm while Shenfield High School, Essex entertain Ysgol Glan Clwyd, Saint Asaph at 5.15pm.
Day two will see English Champions Shenfield High School take on the Irish side at 10am with Oldham's girls taking on the Welsh outfit at 11.15am.
Friday's fixtures have the Republic of Ireland representatives facing the Welsh while it will be all English affair to finish up the tie at 10.30am.
The table toppers will be awarded the Rod Houston Cup following the final series of games as well as the Nigel Brown Trophy to be awarded to the best player of the tournament.
The Donegal girls showed great class last season in the National Cup campaign and will relish the opportunity to showcase their talents on a bigger stage.  FAI Schools wish Carndonagh Community School every success in the tournament as they kick off proceedings this week.
CARNDONAGH COMMUNITY SCHOOL | Samantha McLaughlin, Suzie Lafferty, Ellie Long, Ailish Doherty, Imogen Diver, Seaneen Crumlish, Cora McCaul, Alanah Brennan, Aisling Doherty, Fiona Dohery. Clara Gill, Aoife McCarron, Erin Grant, Niamh Devlin, Jenna Gallagher, Julia Grant, Rachel McLaughlin, Courtney Gallagher
TEACHERS | Conor Doherty, Kevin McCarron, Danielle Doherty
END
The Cup is named after Mr. Rod Houston. Rod is a retired School teacher and was President of the Scottish Schools FA for many years. He held the position of Treasurer and Secretary of the Schools Association Football International Board (SAFIB) and is honoured to be associated with this competition that promotes girls football to a larger audience. This competition has been in existence since 2016.