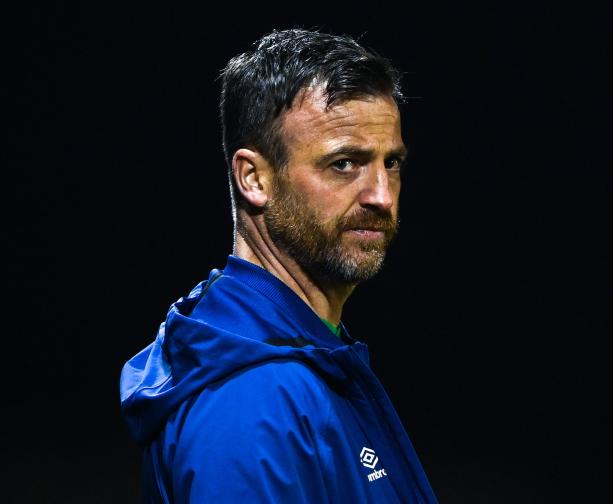 SAFIB hummel Centenary Shield | Under 18 Boys' International
Tuesday, February 21, 2023
McShane names squad for Shield opener
John McSHANE, Republic of Ireland Schools Head Coach has named his squad ahead of the series opener this Thursday night (February 23) as they travel to Renfrew FC to take on Scotland (7pm).
The scholars got their 2023 campaign off to a cracking start with a two one victory over a physical Australian outfit in an International Friendly at Home Farm FC last month.
Eoin KENNY (St. Mary's College, Dundalk) netted a fabulous opener with 51 minutes registered as Peter Grogan (St. Mary's CBS, Carlow) played in Kenny to slot in at the far post from 6 yards out. 
However, the celebrations were short lived as Will FRENEY equalised two minutes later with a sublime set piece to the top corner.
Brian CUNNINGHAM (Presentation College, Headford) was only on the park 15 minutes when he struck what proved to be the match winner in the 90th minute to give the Irish the victory.
Scotland will prove yet another physical test as the sides have enjoyed some classic battles in previous years.
Last season, the Irish came out two one winners with the experienced Lennon GILL (St. Benildus College, Stillorgan) and Leinster colleague Michael RAGGETT (St. Kieran's College, Kilkenny) netting the precious goals as Scotland stunned the large Irish contingency midway through the first period.
Dunfermline pupil Che Reilly had the visitors in front against the run of play with the only real chance on goal, a deflected effort which deceived Reece Byrne (Oatlands College) in the Irish goal to register the opener with 22 minutes on the clock.
However, the Irish goals came either side of the interval as Gill levelled proceedings on 31 minutes while Raggett got the match winner on 55 minutes to seal three valuable points in the Shield series.
McShane will be hoping for more of the same as he enters his second year at the helm, he stated "Last year we came to within a game of securing the Centenary shield, so this year will be an opportunity to go that step further.
This year's preparations have gone well and the addition of the Australia game means that we are more prepared for this campaign than we were this stage last year.
Our squad is strong in all departments and the character of these players makes me believe that we have the best young players in the Country.
Past players such as Paddy Madden, Liam Scales, Daryl Horgan, Jamie McGrath, Alan Browne, Andy Boyle, Sean Maguire, and many more prove that. 
This Centenary Shield is a great opportunity for young home based players to showcase their abilities and character traits on the international stage while completing their Leaving Certificate". 
Following the FAI Schools Interprovincial Tournament last December, McShane and his management staff whittled down the 64 players that starred in that event to over 40 players for the trial process. Over the course of the last few months, they cut the training squad accordingly with a number of students on standby, should their services be required over the four match campaign.
The Republic of Ireland Schools were invited to participate in the SAFIB Centenary Shield twenty years ago (2003). Since then, the Irish have won the Shield seven times.
The luck of the Irish saw them capture the Shield in their first year of asking and followed this up with a stunning three-in-a-row  (2003, 2004, 2005) with James RODGERS, Hugh COLHOUN and John Michael PORTER all reporting wins. The Republic of Ireland shared the Shield with Northern Ireland in 2005. Seán CARR'S side won in 2008 while 2010 saw Dave ARCHBOLD secure the honours. 
The Irish last won the Shield in 2018 when William O'CONNOR (Balbriggan Community College) made his management debut. Previous to that, it was 2015, when Paddy O'REILLY (Trinity Comprehensive School, Ballymun) claimed the title in his first season in charge. Can John McShane add his name to the Roll of Honour at the end of April?
SERIES OPENER
Thursday will see the first of a ten match programme kick off when the tartan army take on the Irish contingency.
The following Thursday, March 2 will see Northern Ireland host the Scots in Belfast.
The Republic of Ireland will take on reigning Champions Wales on Thursday, March 9 in Ferrycarrig Park, Wexford FC.
In the mix will be the visit of England as Ireland host them on Friday, March 24 in Athlone Town AFC while McShane's crew conclude their campaign against Northern Ireland in Belfast on Thursday, March 30 so it's a quick turnaround of games this season.
REPUBLIC OF IRELAND SCHOOLS | Ryan DELANEY (St. Francis College, Rochestown), Jonathan ADEDEJI (St. Mary's Secondary School, Edenderry), Jesse DEMPSEY (Wexford CBS), Eli ROONEY (Summerhill College, Sligo), Niall HOLAHAN (Carrick on Shannon Community School), Senan MULLEN (St. Aidan's Comprehensive School, Cootehill), Callum BONNER (St. Patrick's Classical School, Navan), Arran HEALY (Coláiste Choilm, Ballincollig), Peter GROGAN (St. Mary's CBS, Carlow), Rhys KELLY NOONAN (Coláiste Muire, Crosshaven), Eoin KENNY (St. Mary's College, Dundalk), Adam O'HALLORAN (Clarin College, Athenry), Ryan McBREARTY (St. Mary's Diocesan School, Drogheda), Brian CUNNINGHAM (Presentation College, Headford), Aidan RUSSELL VARGAS (Lusk Community College), Daithí FOLAN (Belvedere College, Dublin)
MANAGEMENT | John McSHANE, Head Coach (Loreto Secondary School, Bray), Derek O'BRIEN, Coach (Ardscoil na Mara, Tramore) Ollie HORGAN, Coach (St. Eunan's College, Letterkenny), Conor FOLEY, GK Coach (Athlone Community College), Martin CAVANAGH, Equipment Manager (Carndonagh Community School), Michael McGLYNN (Physio), Dr. Aidan O'COLMAIN (Team Doctor)
Higher res images available upon request
2023 SAFIB hummel Centenary Shield Fixtures
All games kick off at 7pm
Thursday, February 23    Scotland vs Republic of Ireland                 Renfrew FC
Thursday, March 2           Northern Ireland vs Scotland                      Blanchflower Park
Thursday, March 9          Republic of Ireland vs Wales                      Ferrycarrig Park, Wexford
Thursday, March 23         Wales vs Northern Ireland                           Britton Ferry FC
Friday, March 24              Republic of Ireland vs England                  Athlone Town AFC
Thursday, March 30        Northern Ireland vs Republic of Ireland  Blanchflower Park
Friday, March 31               Scotland vs England                                    Broadwood Stadium
Thursday, April 13            Wales vs Scotland                                         Colwyn Bay FC
Friday, April 14                  England vs Northern Ireland                       Billericay Town FC
Friday, April 28                  England vs Wales                                           Hednesford Town FC
STREAM (£3 FEE APPLIES) | https://share.recast.tv/v/8NXjp?referrer=6oWNg
SAFIB hummel Centenary Shield to be broadcast on Recast in 2023
The Schools' Association Football International Board (SAFIB) are pleased to announce that all hummel Centenary Shield fixtures will be broadcast via the Recast streaming platform, on the hummel Centenary Shield channel.
Each match will be streamed live via the channel for only £3 per fixture – allowing you to watch every clash live, with full commentary and replays from the comfort of your own home.
It couldn't be easier to be a part of the live action this season – join Recast and start watching – head to the hummel Centenary Shield Channel, create an account and claim your 25 free Cast Credits.
You can purchase the hummel Centenary Shield casts that you want to watch by using your card, Apple Pay or Google Pay, plus you can use your 25 free cast credits towards the costs, with each credit equating to 0.01p. You can also earn an additional 50 bonus Cast Credits by completing the 'My Data' profile on your Recast account and agreeing to share your anonymised data with advertisers on Recast.
You can boost your Casts by watching adverts, sharing content or data and inviting your friends to watch too.
You can find out more on Recast and how it works on their website here and we look forward to seeing you tune into this year's SAFIB hummel Centenary Shield action via Recast for 2023.