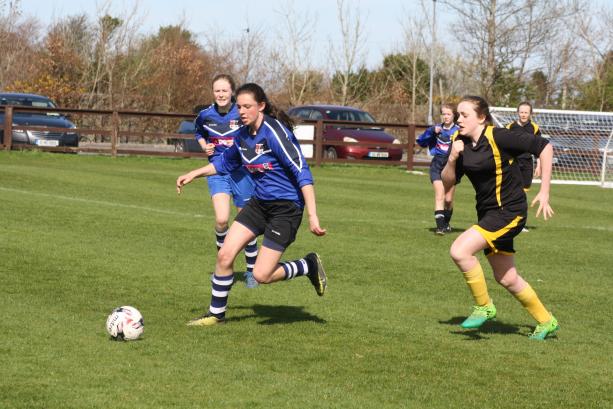 Staunton nets extra time winner for Westport
Bank of Ireland FAI Schools First Year Girls National Cup Semi Final
Monday, April 23, 2018
Sacred Heart School, Westport 1-0 Crescent College Comprehensive, Limerick (AET)
Aoife Staunton (55)
Westport side Sacred Heart School needed extra time to see off the challenge of Crescent College Comprehensive in Salthill Devon FC last Thursday (April 19).
The match winner came courtesy of the lively Aoife Staunton as she broke the deadlock midway through the first period of additional time.
Limerick netminder Ria Stenson had a brilliant outing for the Munster stars as she was under considerable pressure from Staunton and Casey all afternoon
With 18 minutes on the clock, Sorcha McCarney had two attempts to head home an opener for Westport but Stenson was on hand to avert the danger with some great defending on the line to clear the threat.
Scoreless at the interval, Aoife Staunton grabbed a shot from distance following the restart but it was wide of the target.
Leila O'Malley saw her effort saved from the inform Stenson as the final whistle went for extra time.
With only five minutes of the extra time played, it was Staunton who produced the goods to claim a vital goal for Sacred Heart School.
Under some pressure from the Limerick attack, the Westport crew managed to hold onto their slight advantage in additional time to advance to the Cup Final.
Sacred Heart School will now face Loreto Secondary School, Kilkenny on May 8 in the Bank of Ireland FAI Schools First Year Girls National Cup Final following their 3-1 victory over Ulster Champs Carndonagh Community School on Tuesday last in Monaghan United.
SACRED HEART SCHOOL, WESTPORT | Katie McNea (Captain), Ella McHale, Aenea Breslin, Sophie Schaill, Aishling Duffy, Sorcha McCarney, Aoife Staunton, Leila O'Malley, Maggie Chambers, Laura Moman, Cliodhna Casey
SUBS | Abi Conway, Maya O'Toole, Emily Chambers, Milly Allen, Eimear Geraghty
TEACHER | Seamas MacEachmharcaigh
CRESCENT COLLEGE COMPREHENSIVE, LIMERICK | Ria Stenson, Claire Bourke, Jodie Keane (Captain), Charlotte Horan, Jane Moore, Orla Delaney, Kate Feeney, Mary Deery, Lauren McDonagh, Kayden Hannon, Divine Onyekala
SUBS | Ella Kelly, Melissa Walters, Ella O'Brien, Ellen Dolphin, Princess Daniel
TEACHER | Eileen O'Brien
REFEREE | William Stokes (Athlone)