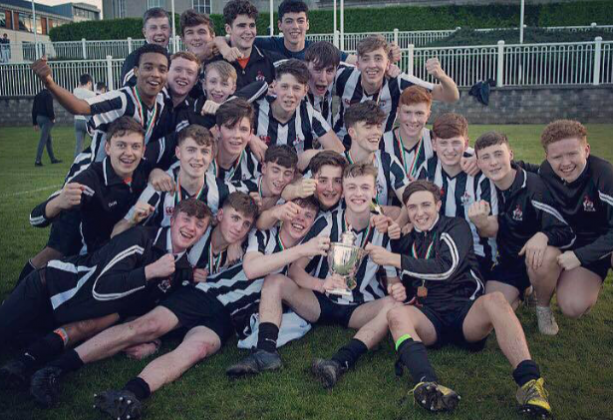 Belvedere to defend Joe McGrath Shield title
Bank of Ireland FAI Schools Joe McGrath Leinster Shield FINAL
Tuesday, April 10, 2018
Clongowes Wood College, Clane vs Belvedere College, Dublin
BELVEDERE COLLEGE, DUBLIN will travel to Clane to defend their Joe McGrath Shield title against hosts Clongowes Wood College on Wednesday afternoon (April 11)
Both teams progressed into this season's showcase following slender semi-final victories as Clongowes required spot kicks to see past last year's finalists Blackrock College following a 1-1 deadlock while Belvedere College overcame St. Fintan's High School, Sutton 1-2 in Stella Maris with Charlie Smith grabbing the match winner.
Belvedere Head Coach Feidhlim Kelly will be in confident mood as he enters this clash which is sure to impress. The Dublin side had a comfortable win over Castleknock College in the qualifying stages.
Last season Kelly's side defeated Clongowes in their semi-final outing in extra time with a Charlie Smith volley winning out that afternoon. Kelly will reply on the impressive form of goalkeeper PJ Vaughan, centre back Tyrick Reilly and midfield trio of Denis Smith, Michael McHugh and Charlie Smith for the finale.
Tyrick Reilly and Charlie Smith will line out for the final time for their school so they'll want to ensure that the silverware remains in the school before their departure!
The Joe McGrath Shield was introduced by the Leinster Branch, Boys Section last year targeting senior cycle students in predominately rugby schools. All group games were scheduled for a Wednesday afternoon when the students were on a half day ensuring their academics weren't affected. Schools such as Castleknock College, Blackrock College, St. Benildus College, St. Fintan's High School, Sutton, St. David's CBS, Artane and Firhouse Community College were invited to participate in 2018.
Dermot Kelly, Competition Organiser will oversee proceedings as kick off is pencilled in for 2.30pm on Wednesday afternoon. Can Belvedere ensure a two in a row or will hosts Clongowes upset the odds!
CLONGOWES WOOD COLLEGE, CLANE | Sean Brogan, Paddy Culhane, JV Cummins, David Gannon, Nathan Lyons, Ciaran Lynch, Sean Lysaght, Ben Matuschka, James McCormick, Niall McCormick, Mike Mediros, Colm Murphy, Oscar O'Connell Hussey, Pierce O'Connor, Eoin O'Leary, Mark O'Loan, Jack O'Quigley, Greg O'Reilly, Daniel Reilly, Max Rowan, Eric Scholarin, Cathal Tuohy, Karl Von Finckenstein
TEACHER | Noel Mason
BELVEDERE COLLEGE, DUBLIN | PJ Vaughan, Conor Donovan, Tyrick Reilly, Paddy Gleeson, Luke Byrne, John Tierney, Ben Kavanagh, Michael McHugh, David Smith, Denis Smith, Charlie Smith, Michael Murphy, Damien Doyle, Jack Delaney, Eoin Cullen, DJ O'Flaherty, Josh Anye
TEACHER | Feidhlim Kelly ADMIN DIRECTOR | Noel McKenna