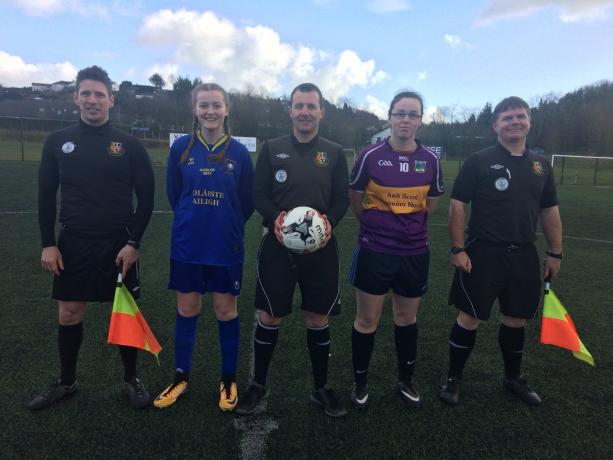 Clara brace sees off Letterkenny 
Bank of Ireland FAI Schools Junior 'B' Girls National Cup Semi Final
Friday, February 23, 2018
Coláiste Ailigh, Leitir Ceannain 0-2 Ard Scoil Chiaráin Naofa, Clara
                                                                                                                             Eve Kelly (33), Ellie Fitzpatrick (49)
Goals either side of the interval courtesy of strike duo Eve Kelly and Captain Ellie Fitzpatrick was enough for Ard Scoil Chiaráin Naofa to see off Keith Cowan's Coláiste Ailigh in Monaghan United last Tuesday (February 20)
The Letterkenny side had impressed in their provincial decider recording a superb 5-2 victory over a hardworking Crana College but unfortunately couldn't press the Clara defence on this occasion and depart this season's campaign graciously.
From the outset it was Kelly and Fitzpatrick that were the liveliest on the park with the duo craving some wonderful opportunities early on and causing a nightmare for goalkeeper Charlie Shevlin to deal with.
The Coláiste Ailigh netminder was extremely busy for most of the opening half and did extremely well to keep her side in the tie but unfortunately the youngster was beaten two minutes from the break as Kelly out-crafted her to slot home for the opening goal.
Iseult Ní Mhathuna and Shauna Ní Uiginn came close to equalizing at the restart but Hannah Cronin managed to keep a clean sheet with Shannon Wynne and Áine Bracken covering plenty of ground.
The Leinster starlets lead was doubled when Ellie Fitzpatrick netted half way through the second period to see off any Ulster challenge.
James Duffin will welcome the school's first appearance in the National Cup Final stages when they take on the experienced St. Patrick's College, Lacken Cross in less than a fortnight's time as Home Farm FC, Whitehall plays host on Wednesday, March 7.
COLÁISTE AILIGH, LEITIR CEANNAIN | Charlie Shevlin, Aoife Ní Mhurcheadha, Clodagh Ní Shioráin, Shannon Ní Chuinnegaín, Sinead Nic A'tSaoir, Erin Ní Dochertaigh, Courtney NicGiolla Chomhaill (Captain),Aoibhinn Ní Chonaill, Iseult Ní Mhathúna (Aobhe Pasoma 56), Shauna Ní Uiginn
SUBS NOT USED | Caoimhe Ní Dochertaigh, Niamh Shield, Muireann Ní Mhathuna
TEACHER | Keith Cowan
ARD SCOIL CHIARÁIN NAOFA, CLARA | Hannah Cronin, Áine Bracken, Rebecca Larkin, Shannon Wynne, Robyn Bracken, (Jemma McGuinness 42), Ciara Monaghan, Kate Fitzpatrick (Niamh Rooney 70), Eve Kelly, Ciara Guilfoyle, Ellie Fitzpatrick (Captain), Rachel Bracken
SUBS NOT USED | Katie Healy, Zelda Utangec, Ciara Dolan
TEACHER | James Duffin
REFEREE: Robert Martin (Louth)