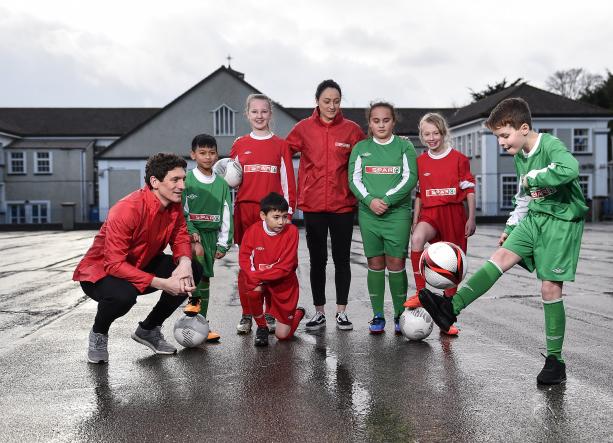 Monday, February 12, 2018
The hugely popular SPAR FAI Primary School 5s Programme will kick-off later this month as Tipperary, Galway, Meath and Limerick are among four of the 26 counties in action at the end of February.
With the programme's closing date just passed (February 9), primary schools nationwide will commence preparations for this season's sensational campaign with over 1,500 institutes experiencing footie fever!
The first County to launch the 2018 programme will be LIMERICK as Seanchoill Sports Complex, Corbally welcomes schools on Thursday, February 22 for their Section 'A' qualifiers for small schools. The various other qualifiers will take place the following week, February 26 to March 2 and 8 as they whittle down the competition for County Finals Day on April 26 in the same marvellous venue. Development Officer Barbara Bermingham is co-ordinating this year's events with the assistance of colleagues Barry McGann, Declan Considine and Jason O'Connor as 87 schools will descend onto Corbally over the eight day schedule.
The TIPPERARY qualifiers will commence in a fortnight's time as Cahir Park AFC will play host to the Southern schools on Monday, February 26. Development Officers James Scott and newly appointed Stephen Quinn will also host qualifiers in Two Mile Borris / St. Kevin's FC for the Mid Tipperary teams in mid-March while Ballymackey FC will cater for the Northern contingency on April 10. These qualifiers will culminate in an outstanding 30 days of events for a staggering 115 schools in the County, North and South.
Similarly, MEATH's impressive MDL Grounds in Navan will have 11 days of football scheduled as they cater for 77 schools with proceedings kicking off on Monday, February 26 with the Girls 'A' Section. Paul Holland (local co-ordinator) and Barry Ferguson (FAI Development Officer) will be at the helm to ensure the smooth operation of the competition in the Royal County.
GALWAY will see Nigel Keady's City qualifiers take place on Tuesday, February 27 as the Section 'A' schools do battle in Salthill Devon FC, Drom East. This marks the first of 11 days of activity with a list of County and City venues catered for as John Morris Burke keys a watchful eye over this year's 105 participating schools.
NEW VENUES
A number of new venues have been organised this year, such is the demand in some Counties.  CORK have an remarkable 131 schools to satisfy in four venues with Blarney United, Carrigaline United, Clonakilty and Midleton FC all hosting local qualifiers before the lucky schools progress to the County Finals Day in Turners Cross in late April. 
MAYO is another County to expand operations with Westport United FC, Ballinrobe Town FC, Killala FC, Kiltimagh/Knock FC, Solar21 Park and Lorraise Aointhe FC all in contention to service the 92 registered schools.
WHAT'S IT ALL ABOUT?
The SPAR5s as its commonly known as, is a 5-a-side competition which is open to boys and girls from 4th, 5th and 6th class, and puts emphasis on fun and inclusivity. The blitz day format is co-ordinated at local level with the assistance of a network of FAI Development Officers and local primary school teachers. These personnel co-ordinate events at County level with qualifying schools progressing to Regional, Provincial and National Finals.
There are 6 divisions to suit all school sizes with small, medium and large schools all catered for. While the programme encourages boys and girls to play on the same team, there is also a separate competition for girls' schools. A number of teams can represent one school depending on the size of their student body, giving more children the chance to develop their skills in a safe, child centered and exciting environment.
LIST OF COUNTY QUALIFIERS
Please refer to pages 8 to 13 (of the attached) for a comprehensive breakdown of County events and details for each local co-ordinator
SPAR RETAILERS
SPAR have been the Official Convenience Retail Partner for the FAI since 2012. While there are many elements to their partnership agreement, the emphasis for the retailer is to support and promote grassroots football in the local community.
It's the perfect fit given that SPAR have 400 high quality, conveniently located outlets spread across the country who are equally as enthusiastic about this year's programme.  The local retailers will be showing their support for their local schools again this season | #SPAR5s
END