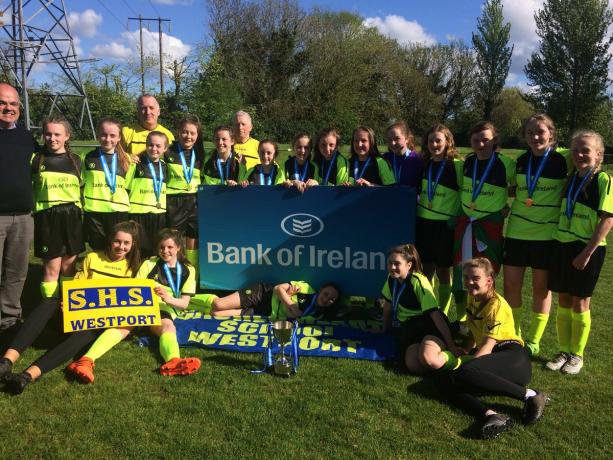 Westport hit the spot in First Year Cup
Bank of Ireland FAI Schools First Year Girls National Cup Final
Wednesday, May 9, 2018
Sacred Heart School, Westport 0-0 Loreto SS, Kilkenny (AET) SHS won 4-3 on pens
Sacred Heart School, Westport captured the Bank of Ireland FAI Schools First Year Girls National Cup in dramatic fashion at the AUL Complex yesterday afternoon (May 8) when they defeated Loreto Secondary School, Kilkenny 4-3 in a nail biting penalty shoot-out after neither side could break the deadlock even after 20 minutes of extra time.
Maggie Chambers, Laura Moran, Aenea Breslin and Aoife Staunton clinically despatched Westport's first four spot kicks while Chiara Cardillo, Amy Clifford and Aisling Downey kept the Kilkenny side in the hunt converting their penalties.
Then skipper Katie McNea turned the tide in favour of Westport when she produced two top class saves to keep out efforts from Meaghann O'Mahony and Orla Kenny and send the sizeable and enthusiastic travelling fans from Mayo into wild celebrations.
It was a first national title in ten years for the Western school but you had to feel sorry for the Kilkenny side who had dominated most of the second half and created the better chances but were unable to beat the brilliant McNea who stood firm between the posts and dealt with everything that came her way.
Loreto skipper Amy Clifford tested McNea with a couple of stinging shots while Aisling Downey also had long range efforts well held by the Westport 'keeper.
A last chance for Loreto to snatch a late win fell for Orla Kenny who powered through the Westport defence and look set to finally beat McNea but unfortunately she dragged her effort just outside the post.
Westport had opened well and they had a glorious opportunity to go into an early lead when Aoife Staunton was sent clear on goal and after her first effort was blocked by Loreto 'keeper Rebecca Pellicer Bergamo, the Mayo girl put the rebound wide.  
The extra time opened in dramatic fashion when Loreto were awarded a penalty after Luci Brennan was taken down in the box by Aenea Breslin.
Skipper Amy Clifford stepped up to take the penalty kick and once again McNea proved to be her side's hero with another brilliant save.
Neither side managed to get close to scoring after that and the lottery of the penalty shoot-out finally decided what was a classic encounter in favour of the gritty Mayo girls.
Rod Houston Cup
Sacred Heart School will now be invited to participate in the Home Nations tournament which will take place in Lilleshall National Sports Centre from Friday, October 12 to Sunday, October 14, 2018. Last season's representatives did the Republic of Ireland very proud with Presentation Secondary School, Kilkenny securing top spot in the prestigious event.
SACRED HEART SCHOOL, WESTPORT | Katie McNea (Captain), Ella McHale, Aenea Breslin, Sophie Scahill, Aishling Duffy, Sorcha McCarney, Aoife Staunton, Leila O'Malley, Maggie Chambers, Laura Moran, Cliodhna Casey
SUBS | Abi Conway, Maya O'Toole, Emily Chambers, Milly Allen, Eimear Geraghty, Laura Masterson
TEACHER | Seamus Mac Eachmharcaigh
ASSISANTS | Declan Moran, Megan Nugent, Jennifer Coughlan
LORETO SS, KILKENNY | Rebecca Pellicer Bergamo, Caoimhe Carrol, Abbie Wall, Amy Clifford (Captain), Siofra Meegan,  Chiara Cardillo, Aisling Downey, Rose Kelly, Orla Kenny, Luci Brennan, Meaghann O'Mahony
SUBS | Kelly Ann Moran, Mia Von Gronigan Dack, Hannah Prendergast, Enya Cardillo, Moya O'Brien, Lucy O'Sullivan, Lauren East, Margret Mary O'Shea, Becky Peters, Claire Doheny, Rachel Brennan, Erin Morrissey, Roisin Hanlon, Hannah Joyce, Kate Allen, Eimear David, Yoma Ogheney Etaferi 
TEACHER | Paul McGinley COACH | Barry O'Neill
REFEREE | David Buckley (Dublin)
VIDEO FOOTAGE | Coverage of the penalty shoot-out is captured on the FAI Schools twitter & facebook pages (@faischools)  
IMAGES | https://www.facebook.com/pg/faischools/photos/?tab=album&album_id=1994530183911869