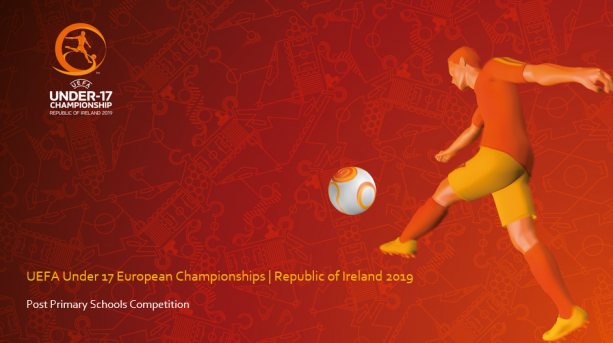 October 3, 2018
Dear Teacher,
The FAI are delighted to announce that they will be hosting the UEFA Under 17 European Championships next Summer. As part of this exciting event, the Association are encouraging First Year Post Primary School students to be a part of the tournament by giving them the opportunity to enter a Creative Writing Competition.
The student is required to write a post-match report following the Republic of Ireland vs Wales game on Tuesday, October 16, 2018 in the Aviva Stadium, Dublin.
The submitted match reports will then be adjudicated on by an FAI panel and the winning application will get the opportunity to be an official match reporter at an upcoming Men's Senior International match and be in the official press conference with Martin O'Neill and meet the manager. They will also get to meet the Republic of Ireland Under 17 competing team for next year's Euro's.
The FAI invite schools to have an in-school competition with only one submission from each school to be emailed to postprimaryschools@fai.ie by Friday, October 26, 2018 at 5pm.
We expect this competition to be great fun for all of the youth involved and the winning application and their class will be rewarded with incredible prizes from the Boys in Green and the UEFA Under 17 Tournament organisers. (Please see power-point below with details of prizes and how to enter).
Hopefully your school can get involved and if you would like any further information please do not hesitate to contact us at postprimaryschools@fai.ie