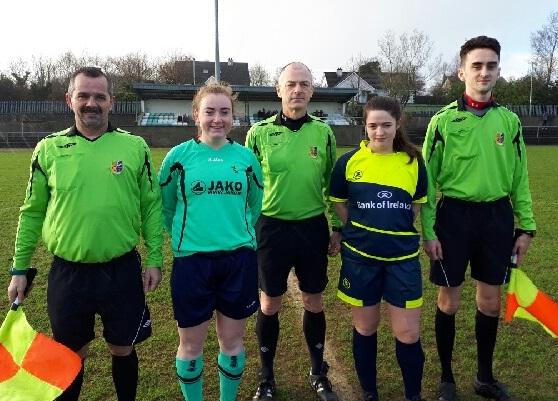 FAI Schools Senior Girls National Cup Semi Final
Monday, February 11, 2019
Moville Community College 4-1 Ursuline College, Sligo
McClenaghan (10), McDonald (20), McGuinness (70), Havlin (76)                                                Scanlon (60)
Last season's beaten finalists Moville Community College have progressed to the FAI Schools Senior Girls National Cup Final with a fine win over Connacht stars Ursuline College in Killygordan on Thursday last.
The Ulster side got the perfect start to proceedings when Kate McClenaghan opened her account with ten minutes played as her sublime effort from all of 20 yards out sailed past Megan Byrne.
Niamh McDonald doubled their goal tally ten minutes later and they enjoyed this two goal cushion at the interval.
Substitute Keela Scanlon grabbed a vital goal on the hour mark to bring the Sligo contingency back into contention.
However the resurgence was short lived as Bronagh McGuinness made it 3-1 with ten minutes remaining.
Sophie McDonagh was the standout player for Ursuline's and her dramatic strike on goal was on target only for superstar Ellen Hegarty to miraculously clear the ball off the line.
A well drilled set piece saw Megan Havlin jump quickest but defender Emma Corcoran was in the right place to clear the danger.
Seconds later, the same corner was whipped in but this time, Havlin headed it powerfully past a helpless Byrne.
Robyn Kennedy was outstanding on the wing for the Ursuline crew but unfortunately couldn't breach the Moville defence as Emma Doherty and Ellen Hegarty were inspirational for their school.
Athlone Community College will now entertain Moville Community College in this year's decider. The surprise package this season, the Midland's side demolished the reigning Champions Presentation Secondary School, Thurles in their semi-final outing to advance to their first Senior Cup encounter. Details of the final will be released later.
MOVILLE COMMUNITY COLLEGE | Clodagh Skelly, Emma Doherty, Ellen Hegarty, Danielle McLaughlin, Aisling McLaughlin, Kate McClenaghan, Bronagh McGuinness, Erin Coyle, Niamh McDonald, Megan Havlin, Kerry Ann Brown
SUBS | Shauna Ruddy, Breena Diver, Kelere McDermott
TEACHER | Margaret Mulhall
URSULINE COLLEGE | Megan Byrne, Emma Corcoran, Sophie McDonagh, Tara Donohue, Ruth Monaghan, Sinead Ryan, Robyn Kennedy, Kate Nugent, Yasmin Connolly, Cathy Harrison, Sarah Kiernan
SUBS | Sorcha Reddy, Helen Monaghan, Sarah Gillen, Keela Scanlon, Grainne Mitchell
TEACHER | Deirdre Cullinan
REFEREE | Vincent McLoughlin(Donegal)