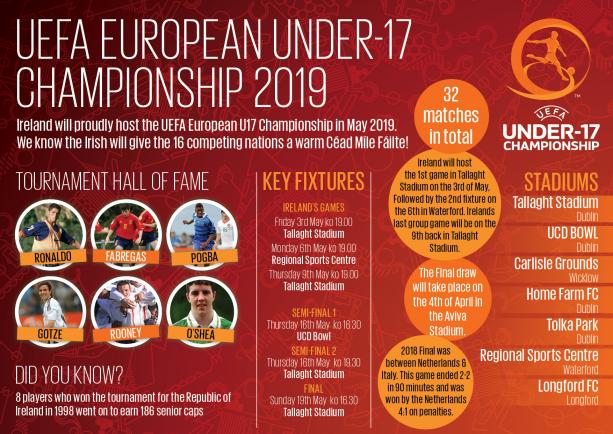 Dear Teacher,
The Republic of Ireland will host the UEFA Under-17 Championship Final from May 3-19 across seven different stadiums in Dublin, Longford, Waterford and Wicklow.
This Tournament provides a unique opportunity for your school to get involved and see tomorrow's stars today!
We are delighted to announce a range of different opportunities for your school to avail of…
Early kick off times and tickets
RSC Waterford will host four group stage games, including one Republic of Ireland game
At least one match in each stadium will be an early kick-off at 2pm to encourage local schools to attend. And to make it even easier for your school to get involved we are offering your teachers tickets for just €2 and pupils tickets on a complimentary basis.
Free coach transfers and competitions
Submit your school orders by Friday, March 29 and be in with the chance to avail of a €500 voucher towards your coach transfers on match day. (*Limited number of vouchers available – requests will be treated on a first come, first served basis).
Adopt a Nation
Once we know which nations will face each other after the draw takes place on April 4, we will assign a team to each school so that you can get behind them when playing at your closest stadium. Pupils will be encouraged to embrace their new nation by designing flags and banners to represent their country on match day.
Mascot and Trophy Tour
Opportunity for the Tournament Mascot and Trophy to visit your School.
The attached tournament guide includes the full fixture schedule along with some fun facts to share with your pupils. We have also included a link for you to download your dedicated School Booking Form
https://www.fai.ie/domestic/schoolclub-booking-form-b1-v-b4
https://www.fai.ie/domestic/schoolclub-booking-form-irl-v-a3
https://www.fai.ie/domestic/schoolclub-booking-form-d2-v-d4
https://www.fai.ie/domestic/schoolclub-booking-form-c4-v-c3
We are very excited to be sharing these opportunities with you and other schools and we hope that you will get involved in this tournament, which promises to inspire and capture the imagination of young people across the country.
If you have any queries at all please do not hesitate to contact U17ticketing@fai.ie
Yours sincerely,
John O'Shea                                                                         Colin O'Brien
Tournament Ambassador                                                Republic of Ireland U17s Head Coach