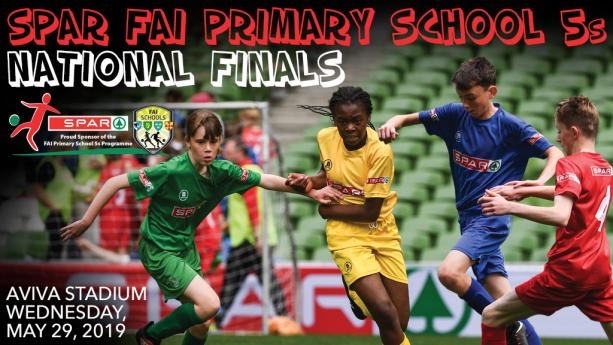 Tuesday, May 28, 2019
As our Senior International teams gear up for their respective outings next month, so too, do our future generation of young stars, as the countdown to the SPAR FAI Primary School 5s National Finals takes centre stage.  Aviva Stadium, Dublin will host the event tomorrow (Wednesday, May 29) with six National titles up for grabs.
Six sections will see the schools divided in Provincial representatives in small, medium and large schools divisions. The girls are encouraged to play with the boys in the SPAR 'A' Cup, SPAR 'B' Cup and SPAR 'C' Cup sections but there is a separate competition for girls only; SPAR 'A' Girls Cup for small schools, SPAR 'B' Girls Cup for medium schools and the SPAR 'C' Girls Cup for large schools.
The event will see 192 children from 24 schools participate in the final stages of competition following four months of fun filled nationwide activity. The qualifying schools have come through their local County events, Regional and/or Provincial qualifiers to reach this stage of the competition with excitement mounting around the local areas.
13 counties will be represented in the Aviva with Donegal leading the charge with 5 representatives. The qualifying schools came through their Ulster showdown in two separate groups with schools progressing from Donegal and Inishowen earlier this month.
Galway have an impressive 4 schools lining out which is great recognition of the football stronghold with Salthill, Claregalway, Clarinbridge and Knocknacarra all featuring.
Cork and Offaly have 3 schools each qualified which is a wonderful advertisement for the hard work done in those areas to develop their footballing prowess. Cork's finalists originate from Beara, Ovens and Rochestown while Offaly's high flyers scale the likes of Birr, Mucklagh and Edenderry so there will be huge excitement in these regions.
Monaghan, Sligo, Roscommon, Kildare, Wicklow, Wexford, Clare, Limerick and Kerry will each have one representative.
Also of note is that fact that three Gaelscoileanna will be participating out of the 24 schools involved with SN Colmcille, Baile na Finne, Gaelscoil Chill Mhantáin and Scoil Mhuire Caiseal, Fánaid looking forward to the action which is set to commence at 11.30am with the small schools section in boys and girls kicking us off. Another impressive observation when reading through the line-ups are that out of the 192 players involved, 20 will make a return from last year as five schools make a remarkable comeback at National level.
This year the programme featured an amazing 1,696 schools with a total of 37,448 children participating which is a new record for the 5s programme which has been in existence since the mid-1990s. 
The SPAR 'A' Cup has Ardkeeran NS, Riverstown, Sligo (Connacht), Clonlisk NS, Birr, Offaly, (Leinster), Trafrask NS, Beara, Cork (Munster) and SN Colmcille, Baile na Finne, Dún na nGall (Ulster) all in the driving seat for National honours. Extraordinarily three of the four qualifiers will be returning from last season. Trafrask NS were runners up to eventual winners Latnamard NS of Monaghan in 2018. The Ulster Champions were beaten this season in the Ulster decider as SN Colmcille, Fintown are new to this level of competition. Ardkeeran NS have Jack Tuohy and Niall Kenny back in the team as they enjoyed a fourth place finish twelve months previous. Clonlisk NS will have experienced players to call on, for example, Robert Carney, James Sampson, Liam O'Riordan and Fionn Carney returning to the Aviva. While Trafrask NS have Liam Crowley, Tom O'Connor, Mark Downing and Jack Crowley all relishing more action in the stadium.  Will this trio match the calibre of last year or will new kids on the block SN Colmcille scoop the top spot?
The SPAR 'A' Girls Cup will have debutants Lisacul NS, Castlerea, Roscommon (Connacht) alongside the experienced St. Fintan's NS, Mayglass, Wexford (Leinster), Crusheen NS, Clare (Munster), and Scoil Mhuire, Caiseal, Fánaid, Donegal (Ulster) in the melting pot for the small girls schools section. Scoil Mhuire will be in familiar territory. Principal Gráinne Bn. Uí Dhubhthaighled the crew to the Aviva back in 2017 when the team came a gallant fourth in the same division that they're competing in this week. We also have the deadly duo from Mayglass and Crusheen making an astonishing appearance again following on from last season's debut. The St. Fintan's squad came fourth while Crusheen came third in 2018. The Wexford team have five players all back in contention with goalkeeper Jenna Ryan, Clara Kelly, Tara Cullen, Aoibheann Rankin and Ciara Murphy excited for a return to the Dublin venue. Meanwhile Aimee Colleran, Caoilfhionn Perill, Grace Gleeson and Sarah O'Donnell will be looking forward to a rematch against their Leinster counterparts.  Former Chairman of FAI Schools, Seán Carr will have a keen interest in this division as his former primary school, Scoil Mhuire, Caiseal, Fánaid will be in action for the Ulster kingpins.
The SPAR 'B' Cup will see a broad geographic remit covered as Cregmore NS, Claregalway, Galway (Connacht), Gaelscoil Chill Mhantáin, Cill Mhantáin (Leinster), Lisnagry NS, Limerick (Munster) and St. Oran's NS, Cockhill, Donegal (Ulster) try to make a top of the table finish. Under the stewardship of Kathryn Doherty and Shaun McLaughlin, the pair guided the boys from St. Oran's NS, Cockhill, Buncrana, Donegal to third place in the SPAR 'B' Cup last year. Previous to that the Donegal outfit have made an outstanding eight appearances at the National Finals. The school were finalists as far back as 2000 in the Girls 'B' Cup division and then again in 2002, 2003, 2004, 2005 claiming third that season and 2008 with a runners up medal for the boys in the 'B' Cup when Leah Victoria Park, Tullamore Town FC hosted the Nationals. Another familiar name included in proceedings will be Lisnagry as they featured in this contest in 2015 claiming National honours in the 'B' Cup. Can they replicate such success stories in 2019?
Scoil Mhuire, Clarinbridge, Galway (Connacht), St. Colman's NS, Mucklagh, Offaly (Leinster), Faha NS, Kerry (Munster) and Glenswilly NS, Donegal (Ulster) make the cut for the medium schools in the SPAR 'B' Girls Cup. It's fantastic to see more new schools progressing to this level and the players will savour the opportunity afforded to them in Faha and Glenswilly respectively. The quartet will be a thrilling division if the provincial deciders are anything to go by with some excellent football demonstrated at County and Provincial contests. St. Colman's made an appearance in 2016 flying the flag for the County with a third place finish in the Girls 'B' Cup. Whilst Scoil Mhuire have displayed their skills in this competition on three previous occasions in the Girls 'A' Cup in 2007 with a gold medal to their credit. Their first National title was then followed up in the Girls 'B' Cup category with a third place spot in 2009 and most recently the Girls 'B' Cup gold medal went to the school in 2010 making it two National titles for the school in two different divisions.  
An array of talent will be on display in the SPAR 'C' Cup for large schools. All four teams will be at full strength for the final showdown. St. John the Apostle NS, Knocknacarra, Galway (Connacht), Scoil Muire Banríon, Edenderry, Offaly (Leinster), Scoil Phádraig Naofa, Rochestown, Cork (Munster), St. Joseph's BNS, Carrickmacross, Monaghan (Ulster) will take to the field with an even contest in store. 2014 saw teachers Jimmy Lacey and Paul Fitzpatrick make the trip to Dublin as St. Joseph's BNS, Carrickmacross played in the SPAR 'C' Cup which merited a fourth place medal. While their 2017 appearance brought the same result. This time out Jimmy will be accompanied by James Conlon. Can the duo improve on this medal tally? The Edenderry contingency are back following a four year absence which saw the lads claim a bronze with third in 2015 in the 'C' Cup.
Scoil Íde, Salthill, Galway (Connacht), St. Laurence's NS, Sallins, Kildare (Leinster), Ovens NS, Cork (Munster) and Scoil Íosagáin, Buncrana, Donegal (Ulster) are in the final select for the girls large schools division, SPAR 'C' Girls Cup. We welcome back some familiar faces to the Aviva, namely; the Buncrana scholars under the managerial eye of Conor Delap and Mary Loughrey. The side are delighted to make the cut having fought hard in their provincial showcase to progress to this stage. The School were merited with a third place finish three seasons ago at Nationals as well as coming into Wednesday's showpiece as defending National Champions having secured the elusive gold last season.  Teacher Delap will have the girls well drilled ahead of their encounter. Can our Cork, Kildare and Galway crews upset the odds against the Donegal charges?
The day promises to be fun filled and action packed as the future starlets entertain the crowds in the Aviva as the final curtain comes down on the SPAR FAI Primary School 5s programme for 2019. The event will be a family fun day focusing on providing participants and spectators alike with huge excitement and entertainment, making it a day to remember for all involved.
All 192 players will receive a medal, the six winning teams will be crowned SPAR Champions for 2019 as well as a SPAR Player of the Tournament accolade in each division to be awarded.  Students will also be in with a chance of securing an epic prize in the Future Sports Journalist competition which is open to all participating schools.
LIST OF PARTICIPATING SCHOOLS
SPAR 'A' Cup (small schools)                     
Connacht                                             Ardkeeran NS, Riverstown, Sligo  
Leinster                                        ClonlisK NS, Birr, Offaly
Munster                                       Trafrask NS, Beara, Cork
Ulster                                                    SN Colmcille, Baile na Finne, Dún na nGall
SPAR 'A' Girls Cup (small schools)           
Connacht                                             Lisacul NS, Castlerea, Roscommon 
Leinster                                                St. Fintan's NS, Mayglass, Wexford
Munster                                               Crusheen NS, Clare
Ulster                                                    Scoil Mhuire Caiseal, Dún na nGall            
SPAR 'B' Cup (medium schools)
Connacht                                             Cregmore NS, Claregalway, Galway  
Leinster                                                Gaelscoil Chill Mhantáin, Cill Mhantáin
Munster                                               Lisnagry NS, Limerick     
Ulster                                                    St. Oran's NS, Cockhill, Buncrana, Donegal           
SPAR 'B' Girls Cup (medium schools)     
Connacht                                             Scoil Mhuire, Clarinbridge, Galway
Leinster                                                St. Colman's NS, Mucklagh, Offaly
Munster                                               Faha NS, Kerry  
Ulster                                                    Glenswilly NS, Donegal
SPAR 'C' Cup (large schools)                      
Connacht                                            St. John the Apostle NS, Knocknacarra, Galway  
Leinster                                               Scoil Muire Banríon, Edenderry, Offaly
Munster                                              Scoil Phádraig Naofa, Rochestown, Cork
Ulster                                                            St. Joseph's BNS, Carrickmacross, Monaghan
SPAR 'C' Girls Cup (large schools)            
Connacht                                             Scoil Íde, Salthill, Galway
Leinster                                        St. Laurence's NS, Sallins, Kildare
Munster                                       Ovens NS, Cork
Ulster                                                    Scoil Íosagáin, Buncrana, Donegal            
SQUAD LISTS
SPAR 'A' Cup (Small schools, mixed/boys)
Ardkeeran NS, Riverstown, Sligo | Jack Brehony, Darragh McKeon, Matthew Potter, Jack Tuohy, Ruairí Kelly, Troy Kelly, Niall Kenny, Seán Kelly
Teachers/Coaches | Edel Dwyer & Anthony Elding
Clonlisk NS, Birr, Offaly | Ciarán Keeshan, Robert Carney, James Sampson, Liam O'Riordan, Fionn Carney, George Dwyer, Killian Curtis, Jack Byrne
Teachers/Coaches | Marion Crean & David Carney
Trafrask NS, Beara, Cork | Liam Crowley, Donagh O'Sullivan, Cillian O'Sullivan, Kevin Harrington, Tom O'Connor, Mark Downing, Jack Crowley, Daniel Mason
Teachers/Coaches | Louisa O'Donoghue & Paula O'Sullivan
SN Colmcille, Baile na Finne, Dún na nGall | Dylan MacFhlionn, Finn MacAilín, Seamus Ó'Baoill, Marcus Ó'Baoill, Tomás MacDabhaidh, Peadar MacFhlionn, Sawyer MacAilín, Fearghus MacAilín
Teachers/Coaches | Seaghán MacLaifeartaigh, Collette Nic Ceallabhuí
SPAR 'A' Girls Cup (Small schools, girls only)
Lisacul NS, Castlerea, Roscommon | Grace Melvin, Cleona Whitehead, Sarah Creaton, Shauna Corrigan, Aisling Corrigan, Talliah Monk, Roisín McDonagh, Ava McGreal
Teachers/Coaches | Caroline Fallon & Kelly Dunne
St. Fintan's NS, Mayglass, Wexford | Jenna Ryan, Clara Kelly, Katie Foley, Jolie Rankin, Tara Cullen, Saoirse Crosbie, Aoibheann Rankin, Ciara Murphy
Teachers/Coaches | David Day & Trevor Rankin
Crusheen NS, Clare | Aimee Colleran, Clara Butler, Caoilfhionn Perill, Áine Sheedy, Grace Gleeson, Síomha Perill, Sarah O'Donnell
Teachers/Coaches | Joe Gantley & Ciarán Collins
Scoil Mhuire Caiseal, Dún na nGall | Leah De Róiste, Aoife Nic Gioll Chearra, Rachel Ní Fhríl, Clodagh Ní Thiarnóin, Caoimhe Ní Fhríl, Gemma Nic Chongail, Olivia Ní Fhríl, Emma Nic Reanneacháin
Teachers/Coaches | | Úna Sweeney & Gráinne Uí Dhubhthaigh
SPAR 'B' Cup (Medium schools, mixed/boys)
Cregmore NS, Claregalway, Galway | Nathan Dolor, Liam Connolly, Igor Cygan, John Devaney, James Costello, Daniel Fitzmaurice, Dara Kavanagh, Matthew Collins
Teachers/Coaches | Tomás Madden, Joe Kennelly
Gaelscoil Chill Mhantáin, Cill Mhantáin | Cian Ó'Nualáin, Liam de Búrca, Jack Macklin, Pádraig MacSuibhne, Zach Ó'Tuathail, Cian Ó'Broin, Kian Ó'Duigeannáin, Brian MacCahmaoil
Teachers/Coaches | Aaron Ó'Caomhánaigh, Seán Ó'Briain
Lisnagry NS, Limerick | Anton Donohoe, Jack Cosgrove, Conor Conlon Ryan, James O'Malley, Cathal O'Mara, James Rennison, Seán Costelloe, John O'Connor
Teachers/Coaches | Patrick O'Neil & Michael Feeney
St. Oran's NS, Cockhill, Buncrana, Donegal | Darragh O'Donnell, PJ Doherty, Rory Green, Connor McDaid, Cahir McDaid, Luke O'Donnell, Devin McCarron, Dónal Óg O'Brien
Teachers/Coaches | Shaun McLaughlin & Kathryn Doherty
SPAR 'B' Girls Cup (Medium schools, girls only)
Scoil Mhuire, Clarinbridge, Galway | Rachel Kelly, Sarah Kearney, Evie Ryan, Ciara Killeen, Siobhan Carr, Isabella Fitzgerald, Ailson Greaney, Isobel Whyte
Teachers/Coaches | Deirdre Caulfield & Caroline Burke
St. Colman's NS, Mucklagh, Offaly | Sarah Ryan, Clodagh Power, Méabh Eager, Sophie Hamill, Holly Burns, Ellen Dolan, Eimear Gillespie, Nicole Merriman
Teachers/Coaches | Claire McIntyre & Keith O'Connor
Faha NS, Kerry | Kate Murphy, Fiana Bradley, Izzy McGrath, Naoishe O'Donoghue, Sarah Fitzgerald, Yvonne O'Connell, Ellie Mai Nugent, Lily Kate Clifford
Teachers/Coaches | Jerry Fitzgerald & Mary Kelly
Glenswilly NS, Donegal | Lucy Grant, Eve McCauley, Chloe Deeney, Hannah McGinley, Darcey Kelly, Sarah McGinley, Shannon Sheridan, Eimear Gallagher
Teachers/Coaches | Darren Hunter & Rónán Curran
SPAR 'C' Cup (Large schools, mixed/boys)
St. John the Apostle NS, Knocknacarra, Galway | Wilfried Mbiajeu, Adrain Jastrowicz Silke, Jack Faherty, Ronan Gilligan, Cian O'Grady, Liam Murphy, Scott Dillon, Darnell McKinney
Teachers/Coaches | Andrew Fogarty & Ronan Gilligan
Scoil Muire Banríon, Edenderry, Offaly | Calum Hurst, Gearóid Tyrrell, Charlie Connell, Gary Foran, Orlandas Jakas, Lee Mooney, Declan Osagie, Eoghan Cullen
Teachers/Coaches | Shane O'Looney & Ger Ryan
Scoil Phádraig Naofa, Rochestown, Cork | Ben O'Connell, Matthew Kiernan, Ronan O'Shea, Eoin Kelly, Ronan Dooley, James Cartner, Brian O'Hehir, Robert Long
Teachers/Coaches | Colm Davy, Michaeál Ó'Riain
St. Joseph's BNS, Carrickmacross, Monaghan | Dion O'Gorman, Marcel Wielgosz, Ben Murtagh, Calum McDonnell, Luke Povall, Dylan Connolly, Eghosa Eghareuba, Gerard Walsh
Teachers/Coaches | James Conlon & Jimmy Lacey
SPAR 'C' Girls Cup (Large schools, girls only)
Scoil Íde, Salthill, Galway | Sophie Keane, Niamh Murphy, Zara Browne, Kate Tuft, Ellie Browne, Adara Salvo, Niamh McDonnell, Aining Zhan
Coaches/Teachers | Deirdre Conneely & Amanda Bowe
St. Laurence's NS, Sallins, Kildare | Deirdre Cronin, Ellyse Angland, Isabel Piara, Megan Egan Bryne, Hannah Gaines, Aoife Hand, Katie Power, Lucy Doheny
Teachers/Coaches | Mags Griffin & Peter Kelly
Ovens NS, Cork | Clodagh Fitzgerald, Lisa Murphy, Méabh McGoldrick, Órlaith Cremin, Emer Slattery, Ali Hayes, Laoise Ahern, Mya O'Sullivan
Teachers/Coaches | Colm O'Sullivan & Conor Murphy
Scoil Íosagáin, Buncrana, Donegal | Leah Deehan, Saorla Ní Ghallachóir, Lucia Clifford, Ciara McGee, Heidi Gill, Sorcha Doherty, Jodie Loughrey, Tara Rose Mahon
Teachers/Coaches | Conor Delap & Mary Loughrey
Images of all participating schools available upon request
For more information:
Diane Fay, FAI Schools - Diane.Fay@fai.ie|086 0404 952
Danny Hogan, Teneo – Danny.Hogan@Teneo.com | 087 183 7064