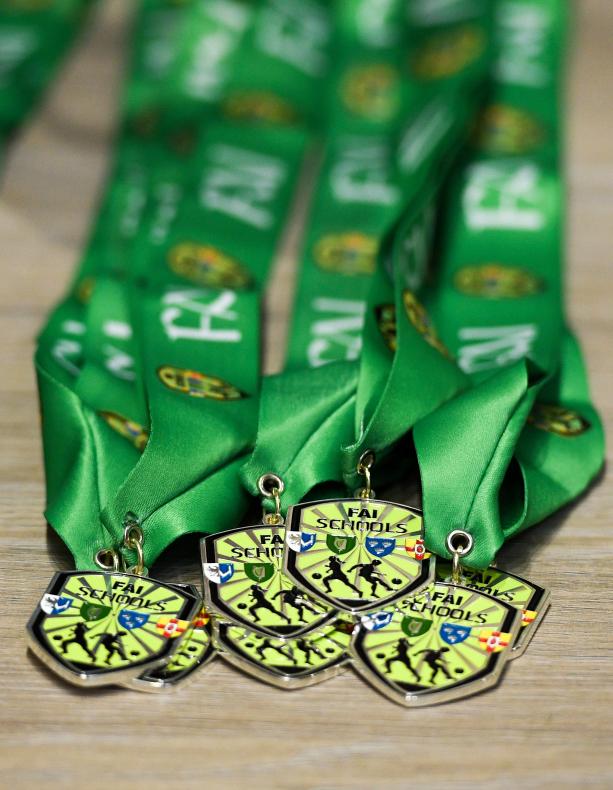 Friday, November 29, 2019
The curtain will finally come down on the FAI Post Primary Schools First Year Boys & Girls Futsal calendar next Thursday, December 5 with a tantalizing National show-down in store. The event will take place in the impressive Waterford IT Arena, Carriganore for a fourth term.
The competition now in its twelveth year has grown steadily with participation at an all-time high. The competition caters for boys and girls in first year. Competitions commenced in October with schools progressing from County to Provincial levels and now onto the National series.
As part of the FAI Schools development programme, futsal is used as a way of introducing youngsters to the game of football and thus increasing grassroots participation within the sport.
Over 5,800 students have taken part in the FAI Schools futsal Initiative inside a three month period in Post Primary Schools throughout the Republic of Ireland.
The climax of the Post Primary School's event will see the cream of school's futsal on display in Waterford next week.
The focus will be on our national talent with eight schools competing for the coveted title of National Futsal Champions for 2019.
Schools from Donegal, Wexford, Leitrim and Tipperary will do battle in the Girls section while Monaghan, Cork, Louth and Mayo will all challenge for top spot in the Boys section.
The four finalists in the girl's category have created wonderful excitement in their respective schools with their progression to the National stage. Scoil Mhuire Secondary School, Buncrana, Presentation Secondary School, Wexford, St. Clare's Comprehensive School, Manorhamilton and Presentation Secondary School, Thurles are all within striking distance of the silverware.
St. Clare's Comprehensive in Manorhamilton made history by becoming the first school in Leitrim to be crowned Connacht Champions.
The Leitrim students maintained their 100% record in the Connacht Final generating eleven goals, only conceding once. Niamh Gallagher's charges will be hoping to replicate such form in the National series.
A major milestone for the other competitors, Presentation Secondary School, Wexford as they are the first Girls Champions in the County. They follow in the footsteps of previous Wexford qualifiers, Good Counsel College, New Ross who were runners up in the boy's division two years ago and Wexford CBS, who experienced the same podium finish ten years ago.
The Wexford aces had a tough battle to qualify out of Leinster with some brilliant opposition in their category. The students managed 12 points out of a maximum fifteen. They won four games, losing out to Coláiste Bhríde, Carnew who looked impressive. The Wicklow team drew 1-1 in their opening game with Eureka Secondary School, Kells but slipped up against Loreto Secondary School, Kilkenny to finish on ten points in the League table. The Wexford starlets topped the group as a result and went on to play a final against the Dublin Champions as group two winners. Wexford kept their composure to overcome Kishoge Community College of Lucan 2-0 to capture gold.  
Two of the other qualifiers reached this level some years ago, as then debutants Scoil Mhuire Secondary School, Buncrana won the title in 2015, marking an incredible journey for the Inishowen players. In their Ulster showpiece, the team averaged four goals a game with three wins from three. Can they maintain this record next week will be the big question.
The Thurles institution were in contention in 2011 when they came runners up in a thrilling tie. The girls didn't have an easy progression in their provincial showing. Both themselves and St. Brigid's Presentation Secondary School, Killarney were level on twelve points apiece following their five group games. The Thurles girls only won the decider on their head to head when they secured a solitary goal against the Kerry school in an earlier match. Will the experienced gained in the earlier rounds, stand to them next week?
The boys draw will be a closely fought encounter with Rice College, Westport, St. Mary's Diocesan School, Drogheda, St. Francis College, Rochestown and Patrician High School, Carrickmacross all bidding for glory.
Mentors Hobbs and Brett guided the Drogheda outfit to the same stage in 2016 and 2018 with a fourth-place finish on both occasions. The duo will see the return of their Munster rivals who they competed against three years ago. St. Francis College came second that year while twelve months later they were crowned 2017 National Futsal Champions. A third appearance for both Schools next week.
St. Mary's impressed in Leinster which sixteen goals scored in their group, only conceding twice. The Drogheda outfit won four out of their five games to book a place in the Leinster Final against Mountmellick Community School. The Louth Champions came out on the right side of a five goal thriller, progressing 3-2 to advance to next week's finale.
The Roco lads seized thirteen points out of a possible fifteen in their Munster exhibition. The Rochestown players dropped points against St. Joseph's SS, Spanish Point in their final game.  Eoin Kelly, Jamie O'Brien and Jimmy Harte will be key to their goal scoring endeavours. The Cork crew notched up nine goals in five games, only conceding once in that 1-1 draw to the Clare Champions at the end of the day.
Carrickmacross scholars Patrician High School made their debut in 2010, coming third on that occasion. They've had a long wait to make a return to the topflight and one that they will relish.  Their provincial decider saw them secure three wins from three with thirteen goals scored and eight conceded. They'll need to tighten up in defense if they're to make a mark next Thursday.
A new venture for Westport side, Rice College but they won't be phased by the big occasion. The Connacht stars had a fantastic run in their provincial outing as they averaged five goals a game and were undefeated.  
Last year, it was a Connacht whirlwind of success with St. Attracta's Community School, Tubbercurry, Sligo (Girls) and St. Louis Community School, Kiltimagh, Mayo (Boys) claiming gold. Previous to that, it was an all Munster affair with Presentation Secondary School, Ballyphehane, Cork (Girls) and St. Francis College, Rochestown, Cork (Boys) reigning supreme.  Who will clinch the headlines come Thursday afternoon?
The competition has proven to be very successful at local level and this is evident with the huge numbers of entrants and the sheer quality of futsal being demonstrated.
The competition has caught the imagination of everybody involved and should prove highly entertaining for the travelling supporters when the games commence at 1pm.
For further information on the event or images of participating schools please contact Diane Fay, FAI Schools on 01 8999 522.
GIRLS SECTION
SCOIL MHUIRE SECONDARY SCHOOL, BUNCRANA | Leah Deehan, Heidi Gill, Aine Jordan, Jodie Loughrey, Ciara McGee, Amy McBride Duncan, Kayla McElaney, Sorcha Doherty, Sarah Marie Duffy, Nicole McDaid
TEACHERS | Davey Hone & Breege Grant
PRESENTATION SECONDARY SCHOOL, WEXFORD | Maeve Kenny, Tara Cullen, Zara Corrigan, Arwen Murphy, Jane Murphy, Aisling Roche, Emma Cullen, Angel Doyle, Eva Corrigan, Ella Crotty
TEACHERS | Michael Doran & Cian Doyle
ST. CLARE'S COMPREHENSIVE SCHOOL, MANORHAMILTON, LEITRIM | Katelyn Gilgunn, Lauren Devaney, Emma Fox, Iona Pudney, Eimear Keaney, Áine McLaughlin, Sophie Dalton, Ciara Nolan, Katie Stephenson, Sarah McGagh, Allie White, Erin Chester
TEACHER | Niamh Gallagher COACH | Muireann Devaney
PRESENTATION SECONDAY SCHOOL, THURLES, TIPPERARY | Caitlin Shelly, Emer Dwan, Ciara Shelly, Amy Reddan, Grace Fanagan, Ella Coppinger, Laragh Griffin, Reah Sweeney, Victoria Cantwell, Blathnaid Lloyd, Lucy Callanan, Sarah Byrne
TEACHERS | Barry Ryan & Cian Treacy
BOYS SECTION
ST. FRANCIS COLLEGE, ROCHESTOWN, CORK | Joe Lyons, Matthew Kieran, Eoghan Murphy, Jimmy Harte, Oscar McCarthy, Ronan Dooley, Eoin Kelly, David O'Kelly, Jamie O'Brien, Jayden Adair Bell, Noah Sowinski, Finnán Gallagher
TEACHERS | Stephen Bermingham & David Donovan
RICE COLLEGE, WESTPORT, MAYO | Peter McNally, Cillian McGing, Conor Reynolds, Conor Cannon, Alex Halpin, Andre Ludden, John Murphy, Luke Durkan, Joey Holmes, Conor Ketterick, Tom Lambert, Matthew McNamara
TEACHERS | Brian Flannery & Darragh Connolly
PATRICIAN HIGH SCHOOL, CARRICKMACROSS, MONAGHAN | Dion O'Gorman, Shane Boylan, Luke Povall, Daniel Breen, Adam Mullins, Mark Hanratty, Seán O'Brien, Conor McGeown, Max Ward, Ben Murtagh
COACH | Francis Matthews PRINCIPAL | Patrick Joseph Duffy
ST. MARY'S DIOCESAN SCHOOL, DROGHEDA, LOUTH | Oran Collins, Kyle Morris, Sam Heeney, Leon Luzha, Alex Divine, Paul Galvin, Eamonn Armstrong, Ethan Burke, Andrew Olajide
TEACHERS | Barry Hobbs & Gavin Brett