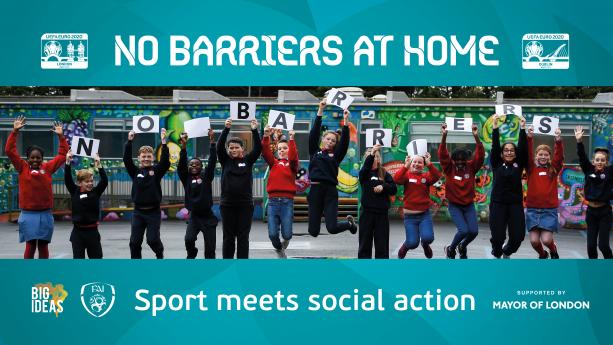 Dear Teacher,
Welcome back to No Barriers at Home. As the 2019/2020 academic year comes towards its end, this can be a fun way to keep your students engaged in their classwork as the sun shines that bit brighter outside.
No Barriers at Home introduces young people to 12 inspirational football Champions who have overcome barriers, such as racism, gender inequality, mental health and disability, to achieve success. Champions include Stephanie Roche, who faced gender inequality and now plays for the National Women's Team of Ireland, Tyrone Mings, the England centre back who challenged racism during a match in Bulgaria in 2019, and Béla Guttmann the Holocaust survivor turned world renowned football coach.
Teacher Resources
Teachers can now download the free, No Barriers at Home Teacher Pack in either English or as Gaeilge. The pack contains:  
12 Champion Cards – each outlining a footballer
     from a different country and the barrier they overcame
12 Host City Cards and Worksheets – full of facts
     about the home cities and countries of each Champion with cross-curricular
     activities.


 
This pack can be used for in class or remote learning and also contains a blank Champion card for the Create Your Own Champion challenge.
Big Ideas are also providing a complementary PowerPoint – please email NoBarriers@big-ideas.org to receive it. 
Create your own Champion Challenge 
The final No Barriers Challenge is for students to create their own No Barriers Champion Card. This is their chance to show the world who inspires them and makes a positive change to the people around them. Champion Cards can be submitted through the upload link below. Big Ideas will be sharing student's work through June and July to mark when the UEFA EURO 2020 Tournament would have taken place, celebrating the stories of these amazing local heroes.
Videos and online resources
Students can access videos of each Champion's story, the Champion card and the worksheets online. All the videos and resources are available in English and as Gaeilge. It's also a fun way for students to keep up with their Irish by listening to the videos!
How to get involved
Head to www.big-ideas.org/nobarriersathome
Students can access all the champions and worksheets through the 'Student' tab.
Teachers can download the teacher pack on the 'Teacher/Parent' page.
The blank Champion Cards are more information on the Create Your Own Champion challenge can be found by clicking the 'Create Your Own Champion Card' button.
Teachers or parents should then upload their students work to www.big-ideas.org/athome to be featured on our community page 
Big Ideas are also offering Zoom workshops for teachers, talking through how to use the resources and support your students through the project.
Contact NoBarriers@big-ideas.org for further information or to register your interest in a Zoom workshop.