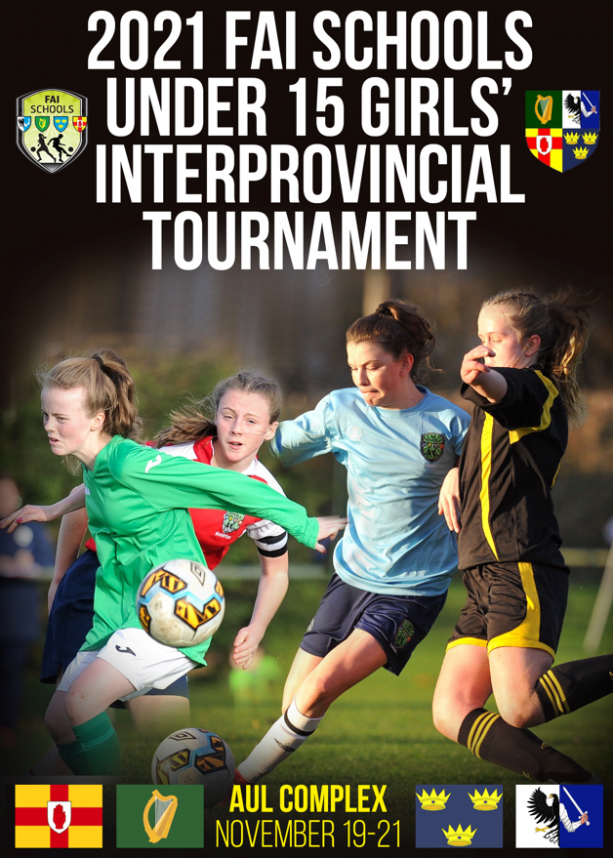 Under 15 Girls' Interprovincial Tournament
Dr. Fionnuala Quigley Memorial Trophy
Girls' Interprovincial series will kick off this weekend
Tuesday, November 16. 2021
This Friday (November 19) will see sixty eight of the top players in Irish Schools line out for the FAI Schools Under 15 Girls' Interprovincial Tournament as the AUL Complex, Clonshaugh plays host.
The Interprovincial series will be the first step in the process of selecting the FAI Schools International Development squad of 18 players who will compete in the Bob Docherty Cup. The 2021/22 campaign will see the Republic of Ireland Schools select travel to Newcastle for the Home Nations event. The International series will take place during the Easter Break from Sunday, April 10 to Thursday, April 14. Prior to that the squad will take on England in the annual John Read Trophy as well as a friendly with Northern Ireland in the build-up to this season's International run.
With this in mind, all eyes will be on the Interprovincial series to scout for the best talent on display within our network of post primary schools. The three day event will see a series of six matches played with Provinces awarded two points for a win and one point for a draw. The format leaves for an exciting finale in the Sunday morning outings.
Unfortunately the 2020 Interprovincial series was cancelled last November due to COVID-19 so the Provincial Head Coaches will welcome the resumption of this competition.
Veteran Head Coach for Connacht, Dom Coll welcomes back Seamus MacEachmharcaigh (Sacred Heart School, Westport) to the management setup following a two year sabbatical. The duo will be joined by the experienced Stephen Lacken (St. Patrick's College, Lacken Cross) and newbie Caroline Ní Chriofa (Coláiste na Coiribe).
In fact Caroline's school will have three players line out this weekend with Jessica Talbot, Zainab Rather and Caitlin Joyce selected. Ursuline College in Sligo will also feature a trio including Sophie Quinn, Rachel McGoldrick and Mairead McIntyre.  
Davitt College pupil Emma Duffy, Gortnor Abbey star Kayla Doherty and Coláiste Iognaid stalwart Emily Fitzgerald should be notable players for the Westerners.
Bridgeen Harley has relinquished her position as Ulster Head Coach after 5 years loyal service to her Province. Paddy McDaid takes up the reigns this weekend with a fresh outlook on proceedings. The Finn Valley College teacher will be optimistic about his chances with the likes of Orla Doherty (St. Columba's College, Stranorlar) and Sarah McCaffrey (Largy College, Clones) involved. Paddy will have past player and now Scoil Mhuire teacher Kaneshia McKinney assisting him this year. 
Barry Ryan's Munster crew will be looking to take top spot this time out with a strong seventeen named with particular reference to Amy Tierney (John the Baptist Community School, Limerick) and Kiera Senna (Coláiste an Chraoibhín, Fermoy) who are both promising prospects. However, the Munster scholars will be without the impressive Katie Lawlee (Hazelwood College, Domcollogher) who is on International duty with the Irish Under 16s this weekend in Wales.
Leinster are usually a formidable force in this tournament and have proved worthy winners time and time again. Rob Ellison will be at the helm once again and will expect nothing else but perfection this weekend. A notable inclusion in the squad will be Tallaght Community School starlet Lauryn McCabe, younger sister to Republic of Ireland Senior Captain Katie. The Arsenal player lined out for Leinster Schools back in 2009 representing St. Paul's Secondary School, Greenhills. That season, the Leinster team disrupted Munster's four in a row title ambitions by snatching the title. Can Lauryn and Co. replicate such success again in 2021?
Despite Leinster's recent dominance in the tournament, the competition has always been a tight and competitive outing for the four teams involved.
The opening clash of this series will see our title holders Leinster take on Munster at 3pm while Connacht entertain Ulster at 5pm. Two very interesting games in store which should set the scene for the remaining encounters.
In keeping with the long standing tradition of maintaining the interest in the competition until the final matches on Sunday morning, the draw for Saturday and Sunday's matches will be made following the games on Friday evening.
INTERNATIONAL SELECTION
Republic of Ireland Schools Head Coach, Richard Berkeley (Sancta Maria College, Louisburgh) is facing into his fourth season in charge and relishes the opportunity to view the latest crop of players to make the cut at provincial level.
Berkeley will invite 32 players in for an initial assessment following the Interprovincial series as he goes in search of his final squad for the Schools' International campaign.
The Tallaght native won the John Read Trophy and Bob Docherty Cup in his debut season in 2018 and followed this up again in 2019 with an extraordinary double. In 2020, the Irish lost out to England in the John Read Trophy before the COVID-19 pandemic put a stop to all football activities, thus leaving the Bob Docherty Cup falling victim to cancellation.   
Richard will be joined once again by his management team of Coaches Emma Mullin, Katie McCarthy (St. Colman's Community College, Midleton), Scott Gaynor (Presentation SS, Wexford) and Karen Henry (Mulroy College, Milford).
INTERPROVINCIAL PANELS
CONNACHT | Sophie Quinn, Rachel McGoldrick, Mairead McIntyre (Ursuline College, Sligo), Keeva Flynn (St. Mary's Secondary School, Ballina), Jessica Talbot, Zainab Rather, Caitlin Joyce (Coláiste na Coiribe, Baile na mBúrcach), Ava Mullins (Calasanctius College, Oranmore), Emma Duffy (Davitt College, Castlebar), Kayla Doherty (Jesus & Mary Secondary School, Gortnor Abbey), Emily Fitzgerald, Rowan Edwards (Coláiste Iognáid, Galway), Katie Heaney (St. Joseph's Secondary School, Castlebar), Kerri O'Driscoll (Presentation College, Athenry), Jasmine Greaney (Dominican College, Taylor's Hill), Lesley Ann Sweeney (Coláiste Muire, Ballymote), Eadie Ryan (Presentation College, Tuam)
MANAGEMENT | Dom Coll (Presentation College, Athenry) Stephen Lacken (St. Patrick's College, Lacken Cross), Seamus MacEachmharcaigh (Sacred Heart School, Westport), Caroline Ní Ghriofa (Coláiste na Coiribe, Baile na mBúrcach)
ULSTER | Amy Doherty (Coláiste Ailigh, Leitir Ceanainn), Orla Malseed, Eabha Daly (Loreto Secondary School, Letterkenny), Vanessa Wochnik (Magh Ene College, Bundoran), Heidi Gill (Scoil Mhuire, Buncrana), Sine Ryan, Orla Doherty (St. Columba's College, Stranorlar), Niamh Ryan (Finn Valley College, Stranorlar), Maryann Ward (Pobalscoil Ghaoth Dobhair), Maeve Brady (Loreto Community School, Milford), Sarah McCaffrey (Largy College, Clones), Cache Crumlish (Carndonagh Community School), Muireann Daly (St. Aidan's Comprehensive School, Cootehill), Sophie Canning, Ashling Mugan, Tiana Hannigan (Deele College, Raphoe), Sara Thomas (Abbey Vocational School, Donegal Town)
MANAGEMENT | Paddy McDaid (Finn Valley College, Stranorlar), Kaneshia McKinney (Scoil Mhuire, Buncrana)
LEINSTER | Annie O'Brien (Assumption Secondary School, Walkinstown), Lucy O'Rourke (St. Mary's College, Naas), Aoife McDermott (Palmerstown Community School), Kayla Maguire (Kingswood Community College), Keelin Dodd (Coláiste Chraobh Abhann, Kilcoole), Carla Muldoon (St. MacDara's Community College), Aoibhne Brennan (Coláiste Pobail Setanta College, Clonsilla), Hannah Healy (Holy Faith Secondary School, Clontarf), Robyn Gleeson (Loreto College, Crumlin), Lauryn McCabe, Ella Kelly (Tallaght Community School), Isabelle Baker (Larkin Community College), Caoimhe Connaughton (Coláiste Íosagáin, Portarlington), Freya Healy (Newbridge College), Anna Butler (St. Andrew's College, Blackrock), Olivia Meighan (Gaelcholaiste Reachrann), Savannah Kane (Mount Carmel Secondary School)
MANAGEMENT | Rob Ellison (St. Raphaela's SS, Stillorgan), Scott Gaynor (Presentation SS, Wexford) Rachel Graham (FAI), Jessie Stapleton (Palmerstown CS), Lauryn O'Callaghan (IT Carlow)
MUNSTER | Clodagh Fitzgerald (Coláiste Choilm, Ballincollig), Zoe Finnerty (Bishopstown Community School), Ava McAuliffe (St. Mary's High School, Midleton), Chloe Wallace (Coláiste Nano Nagle, Sexton St. Limerick), Emma Meaney (Ardscoil Mhuire, Corbally), Amy Tierney (John The Baptist Community School), Clodagh Daly (St. Mary's Secondary School, Nenagh), Mannie Murray (St. Vincent's Secondary School, Cork), Leah McGrath (St. Anne's Secondary School, Tipperary), Shauna Sheahan (Mount Mercy College, Cork), Kiera Sena (Coláiste an Chraoibhín, Fermoy), Siobhan Deasy (St. Peter's Community School, Passage West), Ciara O'Driscoll (Carrigaline Community School), Grace Hogan (St. Ailbe's School, Tipperary), Ciara Curtain (Coláiste Íde agus Iosaf, Abbeyfeale), Jaydine Seward (Gaelcholáiste Mhuire AG, Cork), Hollie Homan (St. Angela's College, Cork)
MANAGEMENT | Barry Ryan (Presentation Secondary School, Thurles), Richard Grimes (St. Caimin's Community School, Shannon), Leah Cremins, Amy Costello, Hayley Dewick, Jodie Griffin.
Friday, November 19
3.00pm Leinster vs Munster
5.00pm Connacht vs Ulster
Saturday, November 20
1.00pm Match 3 Draw to be made on Friday evening
3.00pm Match 4 Draw to be made on Friday evening
Sunday, November 21
10.30am Match 5
12.30pm Match 6
Girls' Interprovincial Tournament Roll of Honour
*Senior U18
| | | |
| --- | --- | --- |
| YEAR | WINNER | VENUE |
| 1994 | Leinster | Our Lady of Mercy College, Beaumont (vs Connacht) |
| 1995 | Leinster | *Longford Town FC (4 Provinces) |
| 1996 | Connacht | *Ballinasloe, Galway |
| 1997 | Leinster | *Ballinasloe, Galway |
| 1998 | Leinster | *Wilson's Hospital School, Multyfarnham |
| 1999 | Leinster | *Wilson's Hospital School, Multyfarnham |
| 2000 | Munster | *Athlone |
| 2001 | Leinster | *Dangain, Galway |
| 2002 | Leinster | *Clare |
| 2003 | Munster | Clare (Current U15 level) |
| 2004 | Leinster | Athlone |
| 2005 | Leinster | Athlone |
| 2006 | Munster | Athlone |
| 2007 | Munster | Athlone |
| 2008 | Munster | Athlone |
| 2009 | Leinster | Tullamore/Athlone |
| 2010 | Ulster | Tullamore/Athlone |
| 2011 | Munster | Tullamore/Athlone |
| 2012 | Leinster | Tullamore/Athlone |
| 2013 | Leinster | AUL Complex, Clonshaugh |
| 2014 | Leinster | AUL Complex, Clonshaugh |
| 2015 | Leinster | AUL Complex, Clonshaugh |
| 2016 | Leinster | AUL Complex, Clonshaugh |
| 2017 | Connacht | AUL Complex, Clonshaugh |
| 2018 | Leinster | AUL Complex, Clonshaugh |
| 2019 | Leinster | AUL Complex, Clonshaugh |