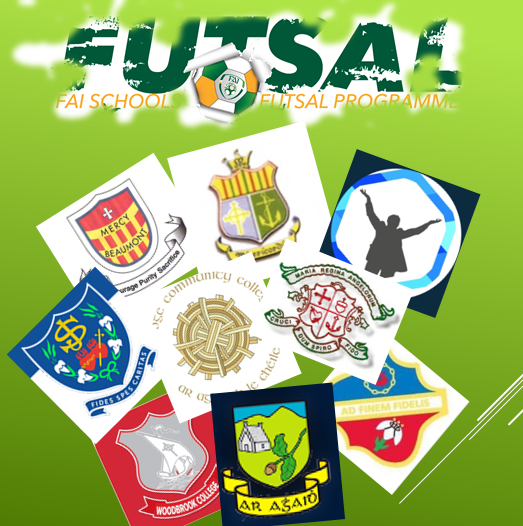 Tuesday, November 6 2018
THE TEMPLEOGUE Saints were crowned the 2018 Dublin Girls Futsal Champions this afternoon following a classic finale against Stillorgan outfit St. Raphaela's Secondary School.
The final was a brilliant match with a solitary goal courtesy of superstar Ruth McDonnell to seal the silverware for the Carey and Tynan combo.
Indeed it was a family affair with Ruth's twin sister playing between the posts, Ciara had a solid outing with some excellent spells of play from Sophie Sharkey, Amy Shiels and Taylor Walker. The formidable trio of Nicole Fox, Emily McCann and Grace Connor all turned on the style with some neat finishes themselves.
With the late withdrawal of Larkin Community College and no DCC qualifier present, there was two groups of four involved in today's futsal action.
The group one winners, St. Raphaela's opened their account with a slender 1-0 win over Loreto Balbriggan but followed this up with a 4-1 victory over a talented Our Lady of Mercy, Beaumont in their penultimate fixture. The Stillorgan scholars finished their campaign with a scoreless draw against an excellent Kishoge Community College from Lucan to see them top the table with seven points on the board. Katie Moran Tighe, Sarah McNulty, Lea Carey and Candela Mendez were all on the scoresheet for Fionn Daly's charges.
In the other group, an impressive St. Mac Dara's Community College made it 3 wins from 3 with a full 9 points collected. Jason Carey's side were lucky to come out of their first encounter with a 1-0 win over the Mount Sackville girls. Winning ways continued for the Templeogue tornadoes as they doubled their advantage against Inchicore's Mercy College to claim a 2-0 win. Woodbrook College played out a seven goal thriller in the final group game with Templeogue prevailing 5-2 to keep their record intact.
The final showcase was an edgy affair with neither team willing to put players forward in fear of a stunning counter attack. Close controlled possession was the order of the day.  Goalscorer McDonnell will be open to watch for the provincial decider as well as netminder Ciara.  
St. Raphaela's Secondary School, Stillorgan | Katie Moran Tighe, Rose Hanley, Sarah McNulty, Lea Carey, Grace Heaney, Holly Williams, Candela Mendez, Aisha Murphy
Teacher | Fionn Daly
St. Mac Dara's Community College, Templeogue | Ciara McDonnell, Nicole Fox, Emily McCann, Grace Connor, Ruth McDonnell, Sophie Sharkey, Amy Shiels, Taylor Walker
Teachers | Jason Carey, Lauren Tynan
List of participating schools | Loreto Secondary School, Balbriggan, St. Raphaela's Secondary School, Stillorgan, Our Lady of Mercy College, Beaumont, Kishoge Community College, Lucan, St. Mac Dara's Community College, Templeogue, Mount Sackville, Mercy College, Inchicore and Woodbrook College
The Templeogue squad will relish the opportunity to showcase their talents in the provincial decider which is down for contention on Wednesday, November 21 (Girls).
St. Mac Dara's have the boys lining out in the Dublin qualifiers tomorrow too so they will be hoping for double futsal success this time tomorrow!
POST PRIMARY SCHOOLS FUTSAL DATES
Provincial Finals:
Ulster                                    November 13                      AURA Leisure Centre, Letterkenny
Connacht                             November 14                      IT Sligo
Munster                              November 20                     Waterford IT Sports Arena
Leinster                                November 21                      National Indoor Arena, Abbotstown (Girls)
Leinster                                November 22                     National Indoor Arena, Abbotstown (Boys)
National Final:                   December 4                       Waterford IT Sports Arena
END