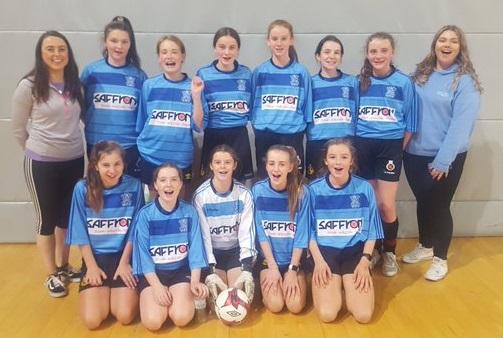 Dublin Post Primary Schools Futsal Finals take place this week
Tuesday, November 5, 2019
Following the completion of ten regional qualifiers in the First Year futsal programme, the schools have now been whittled down to the top ten girls and top ten boys in the Capital.
The girls will entertain the nations tomorrow (Wednesday) while the boys gear up for the decider on Thursday as the National Basketball Arena, Tallaght plays host.
This eagerly awaited tournament conclusion will be decided with two groups of five, with the top team in each group playing off in the grand finale.
The girls will have some mouth-watering clashes in store with several players in exceptional form in their qualifiers.
Group I will comprise of Malahide Community School, St. Kevin's Community College, Clondalkin, St. Kilian's DSD, Clonskeagh, Mercy College, Coolock, AN OTHER.
Group II are equally as impressive with Larkin Community College, Kishoge Community College, Lucan, James Street CBS, Skerries Community College and Loreto Abbey, Dalkey all involved.
It's all to play as the action gets underway at 10.30am!
The line-up for the boys final includes Swords Community College, Drimnagh Castle CBS, St. Tiernan's Community School, Balally, New Cross College, Finglas and St. Mac Dara's Community School, Templeogue in Group I.
While St. Paul's CBS, North Brunswick Street, Coláiste Chilliain, Chluain Dolcáin,Sandymount Park ETSS, Ardgillan Community College and Woodbrook College make the cut for Group II.
DEFENDING CHAMPIONS
THE TEMPLEOGUE scholars St. Mac Dara's Community School made it a super double last season when the girls overcame a determined St. Raphaela's Secondary School, Stillorgan while the boys saw off a confident Coláiste Chilliain, Chluain Dolcáin in the boys show-piece.
It was a solitary goal in both finals that did the damage. And who popped up to secure the winner, only Aaron McDONNELL in the boys event. Ironically, his sister Ruth scored the winner the previous day for their School while sister Ciara was the shot stopper on the day so a great occasion for the McDonnell household with all three playing a starring role in 2018.  Who will make a name for themselves this week?
St. Mac Dara's will have the favourites tag in the boys division on Thursday but anything can happen in this tournament.
Anticipation is mounting for the 240 players that will compete over the two days. One qualifier from each of the boys and girls event will be lucky enough to qualify for the provincial deciders which are scheduled for Tuesday, November 12 (Girls) and Wednesday, November 13 (Boys) in the National Basketball Arena, Tallaght.
We wish all participating teams the very best of luck.
POST PRIMARY SCHOOLS FUTSAL DATES
Leinster Girls                      November 12                      National Basketball Arena, Tallaght
Leinster Boys                     November 13                      National Basketball Arena, Tallaght
Ulster                                   November 13                      AURA Leisure Centre, Letterkenny
Munster                              November 19                      Waterford IT Sports Arena
Connacht                             November 20                     IT Sligo
National Final:                   December 5                        Waterford IT Sports Arena
END